Lifting and firming girl's muscles, Israel phototherapy skin rejuvenation beauty device
In the era of technology changing our lives, beauty instruments have also become popular in the past two years, making our skin care easier and less hassle.
The one I recommend is the NUNA PRO, an upgraded version of the medical beauty-grade premier Israeli phototherapy and rejuvenation beauty device. It has unique innovative black technology, integrates charm and elegance, and awakens the true beauty of the skin. Using 24K gold-plated probes, it is friendly to the skin and has no fear. allergy.  And the design of the base is added to make charging more convenient.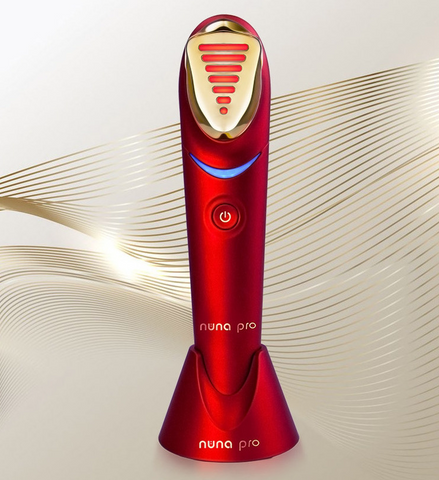 Touch the essence of beauty from the inside out, the combination of red and blue light + infrared light, precise and fast direct, gentle and soothing repair, red light + infrared light accurately penetrates 4-4.8 mm of the skin, penetrates the dermis layer, and quickly repairs damaged skin and elastic fibers stimulate ATP for rapid collagen growth.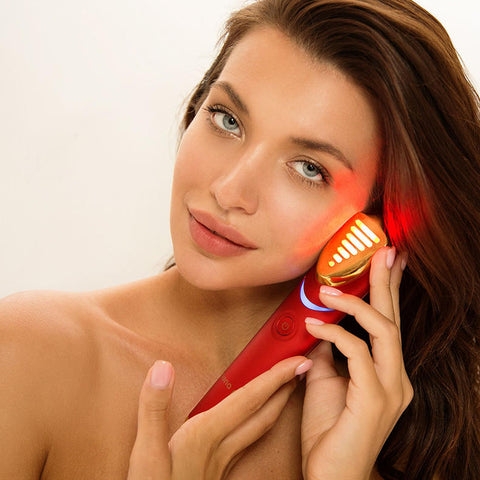 Add points to the face value, open a new era of intelligent multi-effect skin care, dilute the wrinkles around the eyes, neck lines, rejuvenate collagen, intelligent vibration micro-pulse, and then treat the constant temperature, making the skin more in place.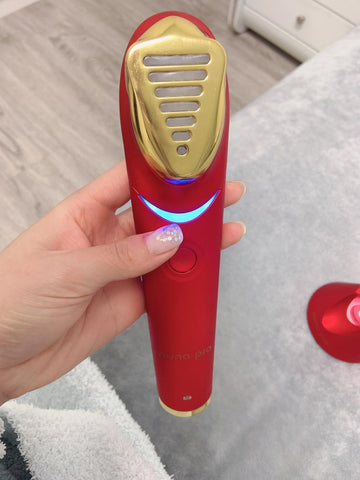 PREMIER company was established in Israel in 1990 with the idea of bringing high-quality and cost-effective home anti-aging beauty devices to every customer. The main series of skin care products were widely recognized worldwide as soon as they were launched in 1995.
PREMIER products Because of their outstanding efficacy and innovation, these unique products are based on a secret purification process, which can extract the ingredients needed to repair and rebuild skin cells, and combine with innovative liposome complexes to directly deliver active ingredients to skin cells, Won the American HBA Health and Beauty Award for 5 consecutive years.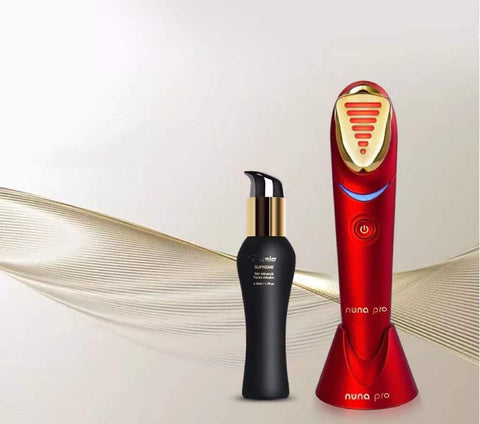 Premier's medical beauty device, world authoritative certification, PREMIER products sell well in more than 70 countries and regions around the world. The products have dozens of patents and won 18 international awards.
Received "Guardian of the Environment" award in 2005, IPDA award by HBA Global Expo in 2007, "Best of the Best" award by Cosmopolitan magazine in 2013, etc.
Such a non-invasive, home-use, easy-to-use, anti-aging product provides a high-tech portable beauty device for friends who are looking to actively fight against aging.Buying at MYERNK supports 15-day return, 3-year warranty, 1-to-1 service, Free shipping worldwide.
MYERNK is an authorized retailer of Nuna by premier and provides 36 months limited warranty for Nuna by premier. 
Why trust us? 
24/7 Customer Service
6,000 Orders Shipped
100% Money-Back Guarantee
Fast shipping >> Worldwide Within 3-10 days
Free Shipping Worldwide

Tips and tightens the facial contours, fades fine lines, and restores the skin's youthful vitality. Friends who like it can start quickly.
Leave a comment