CELLRETURN PORTABLE LED Mask CX9
SKU: CELLRETURN PORTABLE LED Mask CX9
CELLRETURN PORTABLE LED Mask CX9
Codex eXclusive 9
To ensure the most value,we don't take the easy way
For everyone,we make purposeful Movement
01 Portable Care
Compact, but strong
Bold innovation in its compact size
Portable LED care
Start of sustainability,CX9
CX9 ECOISM
MASK FEATURE
02
Reusable Mask
For everyone,
we start purposefully Pro-environment
We make purposeful Movement
WEAR MORE
WASTE LESS
No doubt a completely new concept,
the Washable Mask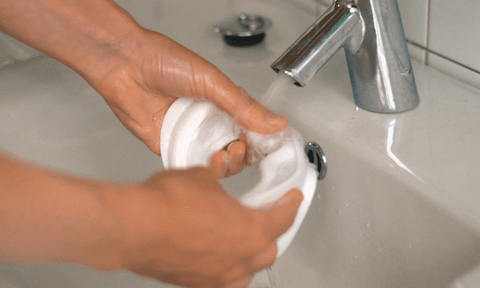 03
UV-C Sterilization
#Where_your_breath_touches
#99.999%_Filter_sterilization
04 Intensive Care
Portable size but Maximum Effect
Skin is damaged daily.
So why not restore it daily?
#Long-time_mask_wearing
#Alert_for_mask-induced_aging
Saturate Your Skin
Moisture Barrier
One-time use increases moisturization
persistency by 200%
Real lmage of Improvement in a Clinical Test Subject
05
Safety Care
# Passed the medical device biocompatibility test
Safe silicone material with no worries
CX9 MASK PRODUCT SPEC
FAQ
Q:What is the CX9?
A:lt is a portable LED care mask with an attachable filter.
Q:Should I wear sunscreen while using it?
A:Since CX9 does not emit ultraviolet rays,you do not need to wear sunscreen.
Q:What is UVC LED?
A:UVC LEDs produce an invisible light beam that helps prevent
contamination and provides sterilization of the product filter when activated.
Q:Can I wear it outdoors?
A:The LED pad may be damaged by temperatures outside the 5 to 35 degrees Celsius range. Therefore, you can freely use the product with the LED pad removed to avoid damage to the pad. The recommended operating temperature of the LED mask is 18 to 35 degrees Celsius according to the LED Mask Type Product Safety Standard. You can simply detach the LED pad when the external temperature is too high or low.
Q:How do I clean the inside of the mask?
A:The inside cover of the mask can be wiped with a wipe or wet cloth, or can be detached and rinsed under running water with a neutral detergent. (Please remember to remove the controller and LED pad when washing the cover.)
Q:Can I purchase each component separately?
A:The attached filter can be purchased separately and other items
available based on the package.
Before use, please follow these instructions:

🚫 Conduct a skin adaptability test before using the instrument for the first time to ensure safety and prevent skin abnormalities.
🚫 Do not use this product under the following conditions:
Patients with heart disease, diabetes, or high blood pressure.
People with facial nerve disorders .Persons who have undergone facial surgeries involving implants.
Individuals with skin diseases, atopic dermatitis, or allergies.
Growing children and individuals who cannot express themselves.
Pregnant individuals or those who may be pregnant.
Individuals who have undergone eye surgeries (please consult a doctor if you have had LASIK surgery).