NEW BELEGA Cell Cure 4T++ Plus Plus
SKU: BELEGA 4T++ (Plus Plus)
NEW BELEGA Cell Cure 4T++ (Plus Plus)
Ship from Japan.
The best head spa, esthetic-grade facial effects delivered from the scalp!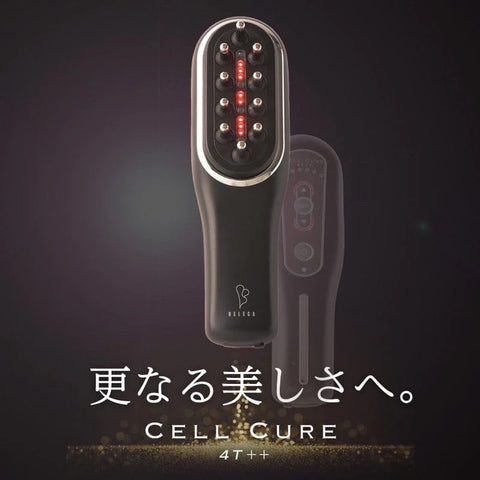 7 types of treatments, 4 modes
You can care from the scalp to the body with this one unit.
Click here for product information

〇 Features

1 Equipped with 7 types of functions, high output for business use

2. Easy to use, you can feel the effect in a short time

3 Corresponds to all the basic elements of scalp care

4 Easy-to-use cordless type

5 Lightweight and compact design

6 Compatible with metal allergies

7 By caring for the muscles of the scalp and head, it is also possible to lift up the face

8. A disinfectant and antibacterial stand is included as a set, so hygiene is safe


〇Patent wave "I.W wave" makes your skin healthy!

The structure of the I.W wave promotes ATP generation and muscle movement,
In June 2011, we obtained a patent for a facial beauty device that allows you to obtain firm skin.
(Patent No. 4759694)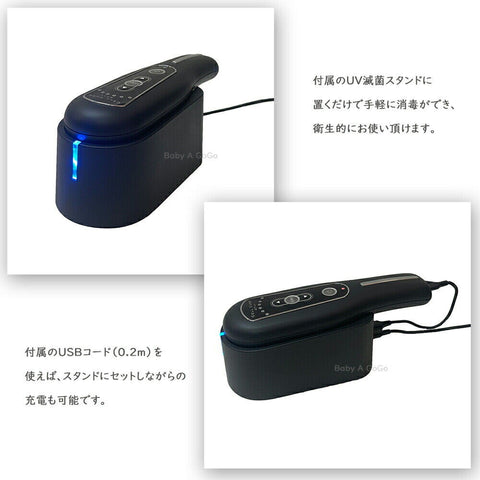 〇 Product specifications

[Body]
Size: 203mm x 61mm x 61mm (height x width x thickness)
Weight: about 220g
Output adjustment: 10 steps
Power consumption: Approx. 5V, 200mA, 1W
Battery used: Lithium-ion battery
Waterproof function: None (waterproof) IPX4
(Please refrain from using it in a humid bathroom or using it with a steamer.)

[Disinfection antibacterial stand]
Outline: 70mm x 80mm x 150mm
Weight: about 180g
Power consumption: 5V, 800mA, 4W (during sterilization)
: 5V/10mA/0.05W (standby)

[AC adapter]
Outline: 48mm x 35mm x 24mm
Input: AC100V-240V, 50Hz/60Hz
Output: DC5V, 2A

[USB charging cord]
A type-C type: 1m
A type-C type: 0.2m

 Set contents

1 main unit
disinfection antibacterial stand
power adapter
Power cable 0.2m, 1m (USB type-C)
Fixing band (2 pieces)
Cotton (20 sheets)
instruction manual
warranty
Dedicated pouch
Connector cap (spare)
BELEGA for Hair Lotion (1 bottle)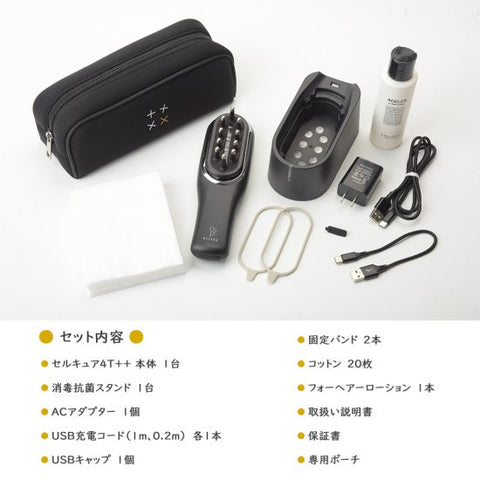 How to use BELEGA Cell Cure 4T++ (Plus Plus) ?
Before use, please follow these instructions:

🚫 Conduct a skin adaptability test before using the instrument for the first time to ensure safety and prevent skin abnormalities.
🚫 Do not use this product under the following conditions:
Patients with heart disease, diabetes, or high blood pressure.
People with facial nerve disorders .Persons who have undergone facial surgeries involving implants.
Individuals with skin diseases, atopic dermatitis, or allergies.
Growing children and individuals who cannot express themselves.
Pregnant individuals or those who may be pregnant.
Individuals who have undergone eye surgeries (please consult a doctor if you have had LASIK surgery).