Premier by Dead Sea Premier PERFECTION BIO-PERFORMANCE LIPOSOME GEL-SERUM
SKU: PERFECTION BIO-PERFORMANCE LIPOSOME GEL-SERUM
Premier by Dead Sea Premier PERFECTION BIO-PERFORMANCE LIPOSOME GEL-SERUM Ship from Israel or Hong Kong.
Description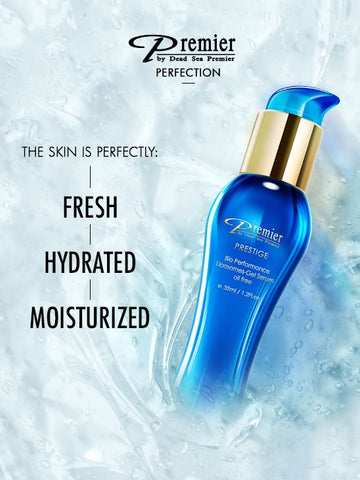 A unique mixture of Aloe-vera and natural plant extracts blended in a secret process to reach optimum performance. Contains natural colorful capsules rich in minerals and Vitamins E & A, in a very unique formulation. Helps recondition, balance and moisturize the skin, enhancing its ability to absorb precious moisture and vitamins.
Application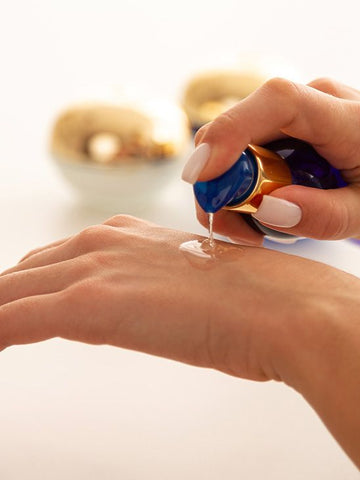 apply with circular movements a few drops onto previously cleansed skin. Use daily in the morning and evening.
Ingredients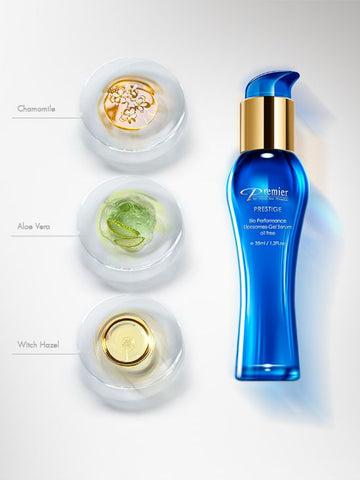 The Minerals of the Dead Sea :

 

The Dead Sea formed over millions of years at the lowest point on earth, 1378 feet below sea level, in the middle of the African fault. It is recognized as a prime location for the skin care industry, due in part to its very high content of salt, minerals and natural elements. These unique minerals help to rejuvenate, heal and smooth the skin. Top-tier laboratories take advantage of this unique natural source and use it to produce skin care products of unparalleled perfection. Utilizing the composition of the Dead Sea, which contains high levels of magnesium, calcium, silica, sodium and potassium, and advanced scientific processes, Premier cosmetics are the best in their class.


Vitamin A:

 

Vitamin A is a true superstar for the skin, and is perhaps the best known anti-aging ingredient. It is an extremely active ingredient that communicates with cells, which means it can connect to any skin cell and tell it to behave like a healthy, youthful cell. Furthermore, it is an antioxidant and can therefore interrupt the free radical degradation process that causes older skin to appear and act. In addition, it helps to prevent the appearance of wrinkles and increases collagen production for an overall anti-aging effect.


Vitamin E:Vitamin E is the best antioxidant in the world; it protects the skin from environmental pollution. As well as having a protective action against UV rays, it acts as an excellent moisturizer and contains powerful anti-inflammatory activity - helping to prevent the signs of premature aging.


Chamomile:

 

Chamomile is one of the best herbs to be used in skin care as it has a collection of powerful skin properties such as anti-inflammatory, hypoallergenic, and contains vital oils and antioxidants. These properties help to assist the skin in the following:
- Calms irritations
- Restores natural moisture
- Encourages healthy radiance
- Optimizes penetration and effectiveness of skin care topicals
- Reduces acne inflammation and breakouts
- Suppresses visible signs of aging


Witch Hazel:

 

Witch hazel is a plant grown in North America and Asia derived from the leaves and barks of Hamamelis Virginiana with potent medicinal properties. It's beneficial for the skin in a couple of different aspects:
- Contains anti-inflammatory properties
- Can calm the skin and can help treat eczema
- Can decrease skin irritation
- Helps to minimize the pores
- Assists in removing excess oils and impurities
- Provides nourishment for the skin
- Assists skin in protection against sun damage
- Helps to combat premature aging
Full Ingredients List:
AQUA / DEIONIZED WATER / EAU, GLYCERINE, HAMAMELIS VIRGINIANA (WITCH HAZEL) WATER, ALOE BARBADENSIS (LEAF JUICE), DEAD SEA MINERAL SALT / SAL MAR, PROPYLENE GLYCOL, CHAMOMILLA RECUTITA FLOWER (CHAMOMILE) EXTRACT, CARBOMER 980, DMDM HYDANTOIN, IODOPROPYNYL BUTYLCARBAMATE , TRIETHANOLMINE, FRAGRANCE (PARFUM), LACTOSE, CELLULOSE,C17007 (ULTRAMARINES) TOCOPHERYL ACETATE , RETINYL PALMITATE , HYDROXYPROPYL METHYLCELLULOSE , CI77491 ( IRON OXIDES), CI 75810 / CHLOROPHYLLIN, GERANIOL, HEXYL CINNAMAL, BUTYLPHENYL METHYLPROPIONAL, LINALOOL, ALPHA-ISOMETHYL IONONE.
*Warning : The list of Dead Seafood ingredients is updated periodically. Before using a Dead Sea Premier product, please read the ingredient list on your product packaging to ensure that the ingredients are suitable for your personal use.

Benefits
Appropriate for all types of skin
Is outstanding for acne-prone skin
Antioxidants restore skin's balance to make it fresher
Moisturize and replenish the skin
Use With
Milk Cleanser: 

Cleanse your  face with our gentle, soothing cleansing milk formulated with comforting botanicals such as rosehip oil, aloe vera, chamomile, and nourishing Dead Sea minerals that cleanse the skin and makeup daily before applying the gel peel. 



Toner:

 Follow-up with our purifying tonic that removes residue and makeup while balancing skin and soothing irritation. As opposed to most tonics on the market, this tonic does not contain alcohols that can dry and irritate the skin.



Refining Facial Peeling Mask: 

Bio-Performance Liposome Serum-Gel can treat the skin on a daily basis, but it can also condition the skin when used after a peel treatment. Weekly, you can refresh the skin and tighten pores by removing dead skin cells and impurities, then follow up with Bio-Performance Liposome Serum-Gel. With regular use together, skin will appear refreshed and invigorated.



Refining Moisture Cream:l 

Although Bio-Performance Liposome Serum-Gel can moisturize skin on its own, it can better condition skin when combined with a moisturizer. The properties of the Bio-Performance Refined Moisturizing Cream and Serum are optimal when combined with.