Premier by Dead Sea PRESTIGE CONCENTRATED FACIAL SERUM WITH VITAMINS C & E
SKU: PRESTIGE CONCENTRATED FACIAL SERUM WITH VITAMINS C & E
Premier by Dead Sea PRESTIGE CONCENTRATED FACIAL SERUM WITH VITAMINS C & E Ship from Israel or Hong Kong.
Description
A silky, newly developed vitamin rich intensive skincare, which provides an invisible veil of support for the skin. A soothing massage with this serum provides a noticeable lift. Over time, a visibly healthier, smoother and more luminous look is revealed.

PREMIER DEAD SEA VITAMINS E & C FOR FACE is the brilliant fusion of nature and technology into advanced facial treatments by utilizing all the benefits of the Dead Sea, nature's unique splendor of locally grown organic jojoba oil, sweet almond oil and rose hips oil with concentrated vitamin E, vitamin C and vitamin A to unlock all that nature offers for healthier and younger-looking skin.
Benefits
PRESTIGE SKIN CARE SOLUTION: advanced, concentrated, silky smooth anti-aging serum vitamin C serum for face with vitamin E oil and retinol helps to treat fine lines and wrinkles for smooth brightened for unified skin appearance.
HYDRATING AND ANTI AGING Dry skin is quenched and hydrated and uneven complexion corrects itself into soft, silky, supple skin. Visibly minimizes lines, wrinkles and sagging skin.


AWARD-WINNING : Dermatologically tested for all skin types & non-comedogenic anti-aging Vitamin c serum.


VELVET SOFT SKIN non-greasy, long-lasting anti-aging serum with vitamin E oil, vitamin C and vitamin A (retinol) is easily spread and quickly absorbed.


SUITABLE FOR SENSITIVE SKIN This vitamin C serum is perfect for all skin types, especially sensitive, dry, and allergy-prone skin, it promotes a radiant flawless complexion.
Application
Massage twice daily or as often as required onto cleansed skin with up ward strokes. Best if followed by a facial moisturizer.
Effectiveness
Efficiency: a youthful and softer skin endorsed by women:
Upon the first request:*
A 100% softer skin
Improved skin structure 92%
Within a couple of weeks**
A 100% more attractive skin
A 100% youthful-looking skin
Ingredients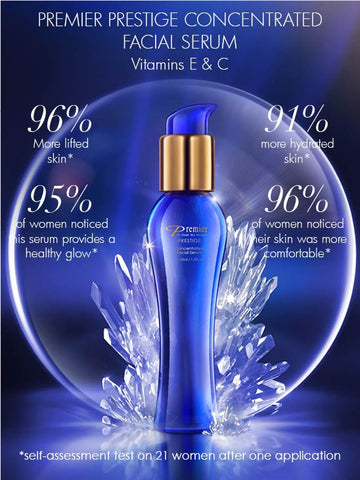 Dead Sea Minerals:

 

Over millions of years, the Dead Sea formed at the lowest point on earth, 1378 feet below sea level, in the middle of the African fault. It is known as a prime location for the skin care industry, due in part to its very high content of salt, minerals and natural elements. These unique minerals help to rejuvenate, heal and smooth the skin. The leading laboratories take advantage of this unique natural source and use it to produce skin care products of unparalleled perfection. Based on the composition of the Dead Sea, which contains high levels of magnesium, calcium, silica, sodium and potassium, and advanced scientific processes, Premier cosmetics are the best in their class.


Rosehip Oil:

 

Rosebush oil is extracted from the seeds of roses, i.e. the fruit that remains after a rose has bloomed and its petals have fallen off. Roses are mainly cultivated in Chile and are rich in essential fatty acids, vitamins and antioxidants that provide many benefits to the skin:
- Hydrates the skin
- Helps maintain a substantial barrier to the skin and prevent water loss
- Enriched with Vitamin A and vitamin C
- Can help with collagen production and maintenance
- Helps reduce fine lines and scars by renewing skin tissue and cells
- Aide à l'exfoliation de la peau
- Can enhance cell turnover
- Consists of vitamin C assisting in cell regeneration and radiance
- Contains brightening properties helping brighten the skin


Vitamin C:

 

Vitamin C is an antioxidant, one of the most powerful functions of which is its role in the production of collagen, a protein that gives the skin its elasticity. It can also help the skin to repair brown spots.


Vitamin E:

 

Natural vitamin E is the best antioxidant in the world; it protects the skin from environmental pollution. It has a protective action against UV rays, acts as an excellent moisturizer and contains powerful anti-inflammatory activity - helping to prevent the signs of premature aging.


Vitamin A:

 

Natural Vitamin A is a true superstar for the skin; it is perhaps the best known anti-aging ingredient. It is a beneficial ingredient that communicates with cells, meaning it can connect to any skin cell and tell it to behave like a healthy, youthful cell. It is an antioxidant and therefore it can stop the free radical degradation process that causes older skin to appear and act. It helps prevent the appearance of wrinkles and increases collagen production for an overall anti-aging effect.


Sweet Almond Oil:

 

Almond oil has many benefits for the skin because it is rich in vitamin E, vitamin K and a vitamin B complex. When applied to the skin, it helps to moisturize, lighten and prevent premature aging. Because it contains vitamin E, an antioxidant, it can help neutralize free radicals, which can cause wrinkles, pigmentation and skin elasticity. Together, sweet almond oil helps keep skin soft and supple.
Full Ingredients List:
CYCLOPENTASILOXANE, DIMETHICONE, ROSA CANINA FRUIT (ROSE HIPS KERNEL) OIL, SIMMONDSIA CHINENSIS (JOJOBA) SEED OIL, PRUNUS AMYGDALUS DULCIS (SWEET ALMOND) OIL, MARIS SAL(DEAD SEA SALT), RETINOL PALMITATE, TOCOPHERYLACETATE, ETHYL ASCORBIC ACID, D-LIMONENE, PIPENTENE, I-LIMONENE, CITRAL, FRAGRANCE / PERFUME.
*Disclaimer : The list of Dead Sea Premier ingredients is updated periodically. Prior to using a Dead Sea Premier product, please read the ingredient list on your product packaging to ensure that the ingredients are suitable for your personal use.
Use With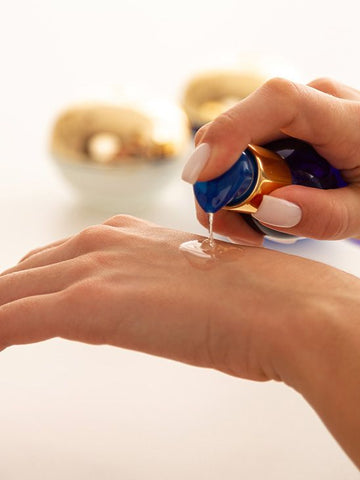 Mild foaming cleansing foam: A gentle, light foam that cleanses and purifies the skin, helping to boost natural moisture. Before applying Peeling Masks Prestige Professional, cleanse your skin with this delicate cleanser suitable for all skin types.


 Moisture Complex : A facial moisturizer that helps improve skin moisture retention by being formulated with conditioning components such as aloe Vera, chamomile, ginkgo biloba, beta-carotene and vitamins A and E. In addition, antioxidants help the skin fight free radicals, which helps prevent premature aging.



Eye Serum: 

Improve your unified look with this lightly velvety eye serum that leaves your eyes feeling soft, smooth and radiant. For best results, apply the eye cream before applying makeup. 
Eye Cream:

 

Supplement your beauty remedy with this gentle eye cream, formulated for the delicate skin around the eyes. This cream will give your eyes a firm and clear look and is the perfect base for your make-up. For best results, mix it with the eye serum