ReFa MOTION Facial Massager
SKU: ReFa MOTION
ReFa MOTION Facial Massager
Ship is from HongKong.
Innovations in Beauty, "Motion Rolling
"Motion Rolling".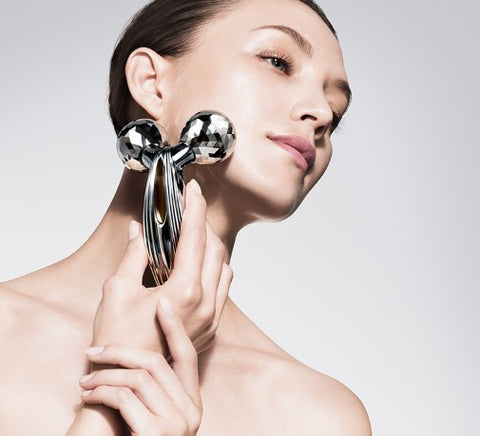 The ReFa MOTION CARAT is the realization of "motion rolling," in which the movable deep drainage* roller gently and deeply captures the skin, picks it up and drains it, and then approaches the muscles.
ReFa is on the move toward new beauty.
Evolving Roller Care, the
Motion Rolling
Three key points of motion rolling
Deeply Deep approach and uniform rolling
Widely Pinch the skin widely to increase the adhesion to the roller
Gentle Absorb pressure on the skin and approach gently
Roller structure that moves back and forth
The movable roller structure enables rolling at the optimum angle of incidence. The more contact surface with the skin*, the deeper and wider the skin is caught at a time. In addition, the suspension connecting the rollers and handle absorbs pressure on the skin while gently pinching it away.

1 Movable deep drainage* rollers
Flexible deep drainage* rollers approach muscles to achieve "motion rolling.

2 Esthetic Method
Replicates the complex and sophisticated movements of professional kneading techniques. The deep pinching and flowing movements at once lead to firm and soft skin.

3 Microcurrent
Light is captured from the solar panel on the handle to generate a weak electric current, "micro-current".

4 Platinum Coating
The surface of the rollers, which come in contact with delicate skin, is coated with platinum for a beautiful shine.

5 Waterproof construction
Waterproof design that meets JIS standards (equivalent to IPX7).
It can be used in the bathtub.
HOW TO USE
Basic Holding Method
Grip the solar panel firmly around the thickest part of the panel so as not to cover it with your hand.
Rolling along the lines of the face and body in both directions as if pinching up the soft parts of the skin, basically in both directions.
Face Care
Rolling from the corners of the mouth, under the cheekbones to the sides of the ears.

Head Care
With eyes closed, slowly roll from the forehead to the crown of the head.

Neck Care
Rolling up and down along the neck from the base of the shoulders and neck to the head.

Second arm care
Rolling from the elbows to the armpits, pulling them up.

Breast care
Rolling to draw the breasts toward the center of the chest while pressing under the armpits.

Waist care
Rolling along the side of the body, pulling up the waist.
Before use, please follow these instructions:

🚫 Conduct a skin adaptability test before using the instrument for the first time to ensure safety and prevent skin abnormalities.
🚫 Do not use this product under the following conditions:
Patients with heart disease, diabetes, or high blood pressure.
People with facial nerve disorders .Persons who have undergone facial surgeries involving implants.
Individuals with skin diseases, atopic dermatitis, or allergies.
Growing children and individuals who cannot express themselves.
Pregnant individuals or those who may be pregnant.
Individuals who have undergone eye surgeries (please consult a doctor if you have had LASIK surgery).