SOULINK Light eye lift shield eye rim RF Beauty tester
SKU: SOULINK Eye RF beauty instrument
SOULINK Light eye lift shield eye rim RF Beauty tester
Ship from Hong Kong.
Little Red Pen - Glowing Eye Instrument
Eye Wrinkle Reduction Research
Red Pen for Eye Lines
Technology Effect
Heavy Line Reduction Mode
TECHNOLOGY EFFECT
Safe and Smart
Multi-country certification Easy to use
SAFE INTELLIGENT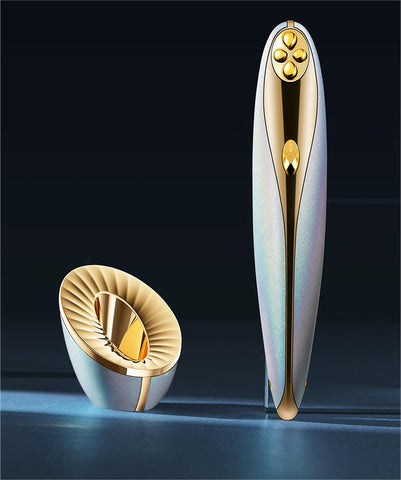 Small red pen with eye lines

Heavy mode to reduce eye lines

Little red pen - glow, the new upgrade 3 heavy light lines mode, 1MHz radio frequency mode
Double frequency system linkage technology patent (single 1Mhz RF + micro-current dual system dual frequency synchronous action)
Hot compress mode, can be selected and combined to deal with a variety of eye problems around the eyes at the same time
Muscle layer Microcurrent
(Myofascial)

Mode 1:RF mode
Strong effect on wrinkle reduction
1MHz IC
Multi-polar RF energy Chip precision temperature control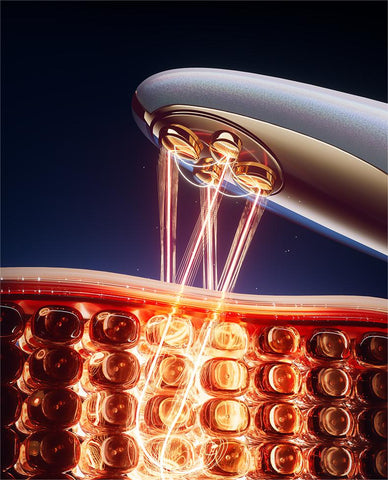 Muscle layer Microcurrent
(Myofascial)

Mode 1:RF mode
Strong effect on wrinkle reduction
1MHz IC
Multi-polar RF energy Chip precision temperature control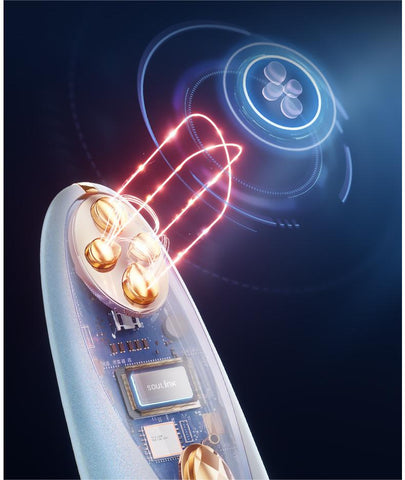 Mode 3: Hot compress mode
42℃ hot compress, lighten eye lines, soothe dark circles
42℃ SPA
Intelligent temperature control Hot feeling comfortable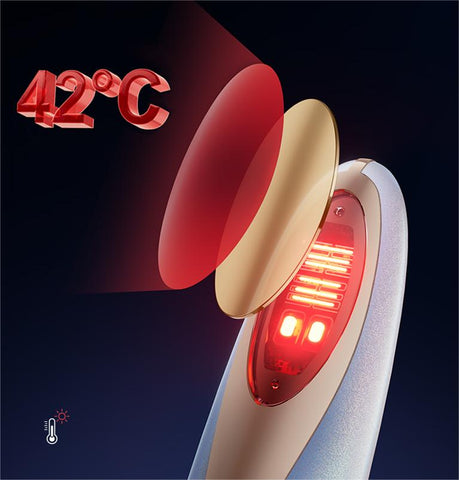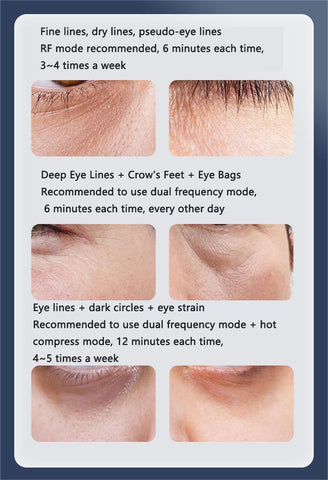 Use a small red pen for eye lines
Don't be afraid of allergies, because it's real
The safety of your skin is our primary concern. We use 24K gold to prevent skin irritation.
We use 24K real gold, 24K gold is stable and resistant to corrosion, preventing skin allergies.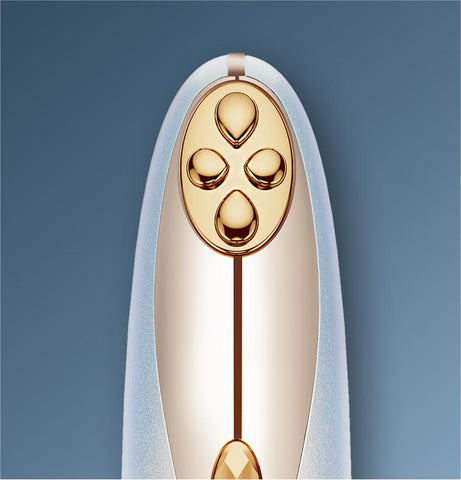 Product parameters
Product Name: Product Model:
Little Red Pen - Glow SK-E02
Product Size: Product Weight:
145*26*26mm Bare 92g with base about 145g
Input voltage: Rated power:
5V-2A 10W
Power interface: Main function:
USB TO DC2.0 radio frequency, microcurrent, heat application

Product standard: instrument, base, adapter, power cord, essence, brand token time hourglass, storage bag, manual, warranty and certificate of conformity and other printed materials, each 1 set.
Customized gift box * 1 eye beauty instrument * 1 base * 1 essence media * 1
adapter * 1 storage bag * 1 power cord * 1 brand token hourglass * 1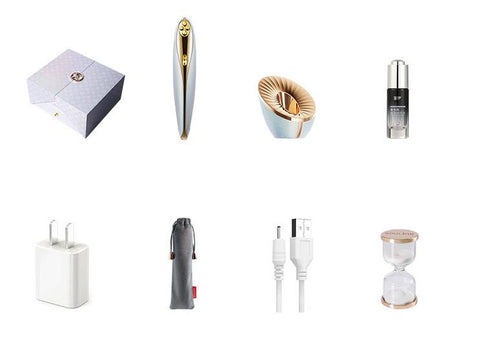 How to use
Warm Tips
Small red pen - glowing color function is strong, high power, need to plug the line to use, please use the official adapter and power cord to connect to use, low power adapter and computer USB interface can not drive the instrument

1 Remove makeup, wash your face with water, and ensure that the eye area is clean (please do not use with makeup)
2 in the eye area to apply the official essence of the media (Note: this step must be indispensable)
3 connect the power cord, long press the function key to turn on the default RF mode, short press the function key to switch modes
4 according to personal needs to select the appropriate mode and gear, you can start using
5 Circle around the eyes and slide / tap, please do not stay in one place too long, if necessary to replenish the essence of the media
6 After use, use a soft cloth or cotton towel to thoroughly clean Clean the operating area and the body for the next use.
Note: The instrument has a mode memory function. Please check the light to identify the current mode and gear.

Before use, please follow these instructions:

🚫 Conduct a skin adaptability test before using the instrument for the first time to ensure safety and prevent skin abnormalities.
🚫 Do not use this product under the following conditions:
Patients with heart disease, diabetes, or high blood pressure.
People with facial nerve disorders .Persons who have undergone facial surgeries involving implants.
Individuals with skin diseases, atopic dermatitis, or allergies.
Growing children and individuals who cannot express themselves.
Pregnant individuals or those who may be pregnant.
Individuals who have undergone eye surgeries (please consult a doctor if you have had LASIK surgery).