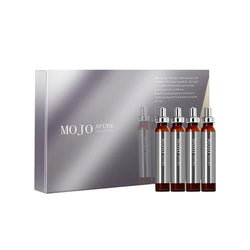 AFURE MOJI Magic Juice Anti-Aging Oral Liquid New 10pcs
SKU: AFURE MOJI Magic Juice
AFURE MOJI Magic Juice Anti-Aging Oral Liquid New 10pcs
Ship from Japan / Hongkong .
Product Description
The lotus germ extract in MOJO Oral Liquid plays a key role in cell proliferation, collagen promotion, and recovery from CUV-B damage. That is, it helps to promote the elasticity of the skin and wrinkles in the dermal part of the fibroblasts, inhibits the reduction of aging collagen, and maintains the elasticity of the skin.
Moreover, it activates the skin's metabolism, proliferates keratinized cells, and prevents aging cells from remaining on the epidermis for a long time.
The lotus germ extract currently used by mojo is the most effective ingredient on the market!

FURE MOJO test results.
Taking AFURE MOJO Magic Juice Age Reversal Oral Solution
12% increase in skin moisture after 3 weeks
Skin elasticity increased by 20% after 9 weeks
15% reduction in pale lines after 6 weeks
27% reduction in deep lines after 6 weeks
How to use
One tablet per day, drink directly
Consistently consume for 3 months
Storage: Store at room temperature, avoid high temperature and high humidity and direct sunlight
Product Specification
Product Specification: 10 sticks/box, 10ml each
Place of origin: Japan
Terms and Conditions
This product is not eligible for warranty
Please do not buy this product if you cannot accept the Japanese instructions included in the product.
Before use, please follow these instructions:

🚫 Conduct a skin adaptability test before using the instrument for the first time to ensure safety and prevent skin abnormalities.
🚫 Do not use this product under the following conditions:
Patients with heart disease, diabetes, or high blood pressure.
People with facial nerve disorders .Persons who have undergone facial surgeries involving implants.
Individuals with skin diseases, atopic dermatitis, or allergies.
Growing children and individuals who cannot express themselves.
Pregnant individuals or those who may be pregnant.
Individuals who have undergone eye surgeries (please consult a doctor if you have had LASIK surgery).