Japan eyepower Dr. Hearts Sight recovery ultrasonic therapy device
SKU: Eyepower
Japan eyepower Dr. Hearts Sight recovery ultrasonic therapy device
Ship from Japan.

Sight recovery device New ultrasnioc therapy device "Eye Power"
Many people may think that their eyesight, which has once deteriorated, will never recover. The reason why eyesight deteriorates is that overuse of the eyes while working on a PC, smartphone, games, reading, etc. causes eye fatigue and diminished eye function. However, it is possible to improve eyesight by recovering eye function that has deteriorated due to tiredness etc. by an appropriate method.

Visual acuity recovery device The new ultrasonic therapy device "Eyepower" massages the ciliary muscles that have become stiff with a micromassage and activates the retina that feels the brightness to make it look clearer and cause problems with vision loss. I will solve it! !!

One eye power for your home for company welfare!
Eye power, a vision recovery device, can be used by the whole family to prevent eye strain caused by overlooking the screen of a computer, TV, or smartphone, to reduce the eyesight of children, and to prevent the progression of presbyopia.
How about being introduced as part of the company's welfare program?
Eye power is also useful for problems such as eyestrain in companies where the number of jobs using personal computers is increasing, and the accompanying deterioration of eyesight.
Eyepower is a Japanese-approved eye-specific device. The certification number is 21500BZZ00316000. It can massage the ciliary muscle through ultrasound to improve pseudomyopia. True myopia includes false myopia, so the degree of true myopia will decrease. By insisting on using the equipment and using the eyes reasonably, the deterioration of myopia can be curbed.

The standard version of Eyepower acts directly on the eyeball to improve eye vision. The upgraded version of Dr.heart has increased the frequency of the human body on the basis of the standard version. Using human body frequency processing, the eye problems are reflected to the brain, and the brain nerves direct the eye nerves to quickly solve eye problems.
Warranty 
MYERNK provides 12 months limited warranty for Eyepower.
Product Details
Product name Sight recovery ultrasonic therapy device Dr. Hearts (Dr. Hearts)

(SUPERSONIC WAVES TREATMENT eye power eye power good hearts)
Size (approx.) 50x196.6x147.6mm
Weight (approx.) 280
Power supply with 4 AA batteries
Electrical input DC6V 100mA ± 10%
Electrical output 280mV ± 10%
Oscillation frequency Fundamental wave 6KHz, effective output wave Second high frequency 12KHz
Target age 6 years old ~
Efficacy Suppression or warming of pseudomyopia (myopia is not treated by using this device)
Set contents Main unit, instruction manual (warranty), eyesight chart, battery (for operation check)
Product Description ● A vision treatment device that can be easily used at home.
● Approximately 10 minutes a day (5 minutes each for the left and right eyes) Just lightly touch the eyelids and it's OK!
● Approximately 24,000 weak ultrasonic vibrations are generated per second, gently massaging the cell tissue in the deep layers of the eye.
● This will loosen the stiffness of the ciliary muscles and make focus adjustment smoother, leading to recovery of eyesight.
● It is also effective for eyestrain caused by computers, games, and studying for children.

● Hearts products are body guards that support many national teams and support the body to the maximum extent in daily life.

● Our body is controlled by frequency.
The "Hearts Product Series" is a product that has undergone its own "Hearts processing" that adjusts the frequency.

● "Heart" + "HERTZ" = Good-HEARTZ. Our mission of "Making frequency processing with all our hearts. Handling" has been renamed to our own frequency processing name "Hearts processing". We will never forget this mission and will continue to propose processing technologies and products that are not ashamed of their name.

* Effects may vary from person to person.
Warranty period 1 year from the date of purchase
Category Medical equipment Management medical equipment
Medical equipment

Country of Origin: Japan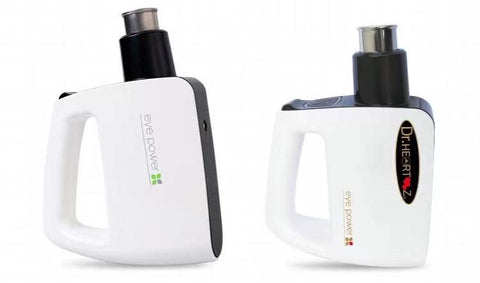 Before use, please follow these instructions:

🚫 Conduct a skin adaptability test before using the instrument for the first time to ensure safety and prevent skin abnormalities.
🚫 Do not use this product under the following conditions:
Patients with heart disease, diabetes, or high blood pressure.
People with facial nerve disorders .Persons who have undergone facial surgeries involving implants.
Individuals with skin diseases, atopic dermatitis, or allergies.
Growing children and individuals who cannot express themselves.
Pregnant individuals or those who may be pregnant.
Individuals who have undergone eye surgeries (please consult a doctor if you have had LASIK surgery).