BELEGA Cell Cure 4T Plus
SKU: BELEGA 4T Plus
BELEGA Cell Cure 4T Plus Ship from Japan / Hongkong .
The price includes customs duties and free shipping worldwide.
Get Real Facials With Four Treatments "You Can Do At Home". CellCure 4T Plus is a beauty device developed with various medical device manufacturers. The CellCure 4T Plus is equipped with the Patented (Patent No. 4859694) "I.W. Wave" and three other professional technologies that usually available at professional beauty salon, bringing together four professional-grade care technologies in one device. In addition, it is a palm-size facial treatment device where design is very delicate, you can easily take it with you when traveling. It can be used cordlessly about 20 times (5 minutes each time) after charging for 6 hours.
Warranty
MYERNK provides 12 months limited warranty for BELEGA Cell Cure 4T Plus.
Benefits
• Cleaning to the level of pores and skin grooves
• Exercise of facial muscles for skin firming
• Effective nutrition
• Promotes blood circulation, and shines a complexion
• Enhance the absorption of your lotion and serum
• Activating and improving blood and lymph flow, skin can become fresh and firm
• Assist penetration of the muscles and muscles of the head and scalp serum
• Treat details areas such as around the eyes, next to the nose, and around the lips
Application
4 types of Modes/Treatments are available: 
Minus mode (green): Electro cleansing treatment
It is a cleansing method that removes dirt that cannot be removed by normal cleansing by passing a small electric current through the face, giving the skin a feeling of cleanliness and transparency, and promoting blood circulation to make the complexion shine. In MINUS mode, foundations that have entered the skin grooves and pores will fall off. In PLUS mode, exhaust gas, cigarette particles, old dead skin, etc. can be removed.

Plus Mode (Yellow): I.W.wave (Microcurrent)
The microcurrent (weak current) generated by the patented wave I.W wave rejuvenates the cells of the skin and improves the resilience of the skin.

Cell Cure Mode (Red): I.W.wave (EMS)
In this mode, microcurrent and EMS work on the mother cells of the skin to train deeper facial muscles. By using it by pulling it up from the bottom along the face line, it will tighten the skin you care about.

Poration mode (blue): Electroporation treatment
A special electric pulse is used to deeply penetrate large molecular components such as collagen and hyaluronic acid and non-electrolytic components.

Specs
Input voltage, Frequency range, Current :

AC100~240V 50/60Hz,DC5V 1.0A
Dimension : 164mm*54mm*60mm
Includes
• BELEGA Cell Cure 4T Plus Device
• Belega Ageleeb Facial Machine Essence 100ml
• Eye and Lip Massage Guide
• Massage guide for scalp
• 2 fixed binding straps
• Bag
• 20 cotton pads
• Power Adapter (Free Plug Adapter for Worldwide Use)
• User Manual & Quick Start Guide & Warranty Card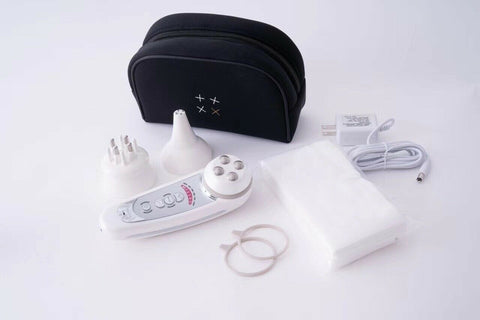 Before use, please follow these instructions:

🚫 Conduct a skin adaptability test before using the instrument for the first time to ensure safety and prevent skin abnormalities.
🚫 Do not use this product under the following conditions:
Patients with heart disease, diabetes, or high blood pressure.
People with facial nerve disorders .Persons who have undergone facial surgeries involving implants.
Individuals with skin diseases, atopic dermatitis, or allergies.
Growing children and individuals who cannot express themselves.
Pregnant individuals or those who may be pregnant.
Individuals who have undergone eye surgeries (please consult a doctor if you have had LASIK surgery).
So perfect device
I wanted to provide an update after using it for a while. The immediate lifting effect is impressive – right after the session, you can visibly notice the difference between the treated side of the face and the untreated side. The functions involving the yellow and green lights are also quite effective; my skin feels noticeably softer and rejuvenated after using them.
The results are simply amazing! I mean, it worked wonders from the very first use. Talk about instant impact! And can we just talk about the sleek design and top-notch materials? It's so classy and elegant, I couldn't resist getting it. The contouring and lifting function is absolutely mind-blowing! I've been using it for over a week now, and I'm totally in love with it!