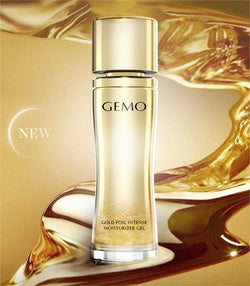 GEMO Official Gold Leaf Moisturizing Gel(40ml)
GEMO Official Gold Leaf Moisturizing Gel(40ml)
Ship is from HongKong.
Gold Leaf Moisturizing Gel
Luxurious official formula gel to awaken excellent muscle energy
Luxurious Official Matching Gold Leaf Gel
Specially designed for GENAO Jinlai beauty instrument
28DAYS experimental measurement
Light lines, scratches, firming and bombardment
Forehead lines -11.84%
Under-eye lines/corner lines-25%
Law lines -5.13%
Alpine Edelweiss Extract
The alpine treasures that grow proudly in the ice and snow environment take their skin care essence to release the soft, moisturizing and nourishing power
Luxurious double essence texture
As light as dew, as luxurious as essential oil, gently swipe, smooth and easy to absorb
Luxury Care Technique Tutorial
Step 1
Take an appropriate amount before caring for the corresponding area, and apply the gel on the skin first

Step 2
Use Jinrong beauty instrument to enjoy luxurious skin beauty

Step 3
After using the beauty instrument, lightly touch the skin to absorb the remaining snow

Step 4
You can use other skin care products to enter the follow-up skin care process
product information
Product Name: GEMO Jinlai Gold Leaf Moisturizing Gel
Net content: 100g
Function: GEMO brand beauty instrument energy introduction medium condensation
Before use, please follow these instructions:

🚫 Conduct a skin adaptability test before using the instrument for the first time to ensure safety and prevent skin abnormalities.
🚫 Do not use this product under the following conditions:
Patients with heart disease, diabetes, or high blood pressure.
People with facial nerve disorders .Persons who have undergone facial surgeries involving implants.
Individuals with skin diseases, atopic dermatitis, or allergies.
Growing children and individuals who cannot express themselves.
Pregnant individuals or those who may be pregnant.
Individuals who have undergone eye surgeries (please consult a doctor if you have had LASIK surgery).