ROKKADO PRO RF Lifting Beauty Device
SKU: ROKKADO PRO
ROKKADO PRO RF Lifting Beauty Device
Ship from Hong Kong.
Department of home beauty instrument new revolution
Poly-energy ultrasound + high-power RF
Three major functions
Ultrasound Radio frequency e photon
Seven modes
Eye Rejuvenation Light Lines Lifting Deep Lines Line Sculpting Lipolysis

Clinical Manifestations of Facial Aging
Laxity
Overall skin laxity Decrease in collagen content of the dermal reticular layer
Wrinkles
Ageing, loss of collagen due to other causes such as UV exposure
Sagging
Change in the position of the fat pad, skin supporting ligament SMAS fascial layer system
Polyphonic Ultrasound
Lipolysis, Microsculpture, Firming, Anti-wrinkle
Significantly more effective
Focused heat upgrade, tightening, skin rejuvenation and fat reduction in one step
Targeting
Targeting the deep fascia, superficial fascia and SMAS fascia layer, the energy is more concentrated and more effective
Simple and safe operation
Intelligent and precise 1V1 customization, seamlessly fit to the skin without dead ends.
Triple penetration to the fascial layer
Deep into the fascial layer:
1.5MM-4.5MM high energy aggregation directly to the fascia layer
Intensive point design: a group of 20 points, intensive energy focus on skin resurfacing
10 energy levels to adjust the intensity as you like
Large, uniform dot matrix with comprehensive coverage to revitalize deep skin regeneration
Targeted, quantitative and precise, 20-point dense energy network, ultrasonic drape [stamped] deep lipolysis to promote collagen reconstruction, save deep lines and sagging
Adjustable High Power RF
30W high power, 4MHz high frequency deep to 3.5mm under the skin

High temperature sensation
Warm sensation 45°C, effectively wake up collagen
Fast heating up
3 seconds heating up, immediate beauty treatment
Shorter cycle time
Deep into the subcutaneous 3.5MM, directly work
Stimulates collagen production by applying directly to the dermis
20 beams of high-density light energy arrangement
Eliminate color difference
More balanced energy
Red, green and blue 3 major E light energy
Red light: accelerate microcirculation, promote the growth of collagen
Green light: balance and stabilize, improve roughness
Blue light: anti-bacterial and anti-inflammatory, improve acne
Ultrasound RF + double-handle design to renew new skin
Nine modes, seven scenes
Beautiful demand for a machine to meet
Deep Lines Mode
Deep improvement of facial wrinkles
Skin Rejuvenation Mode
Revitalize and rejuvenate the skin
Thread Sculpting Mode
Sculpting facial features against sagging
Lipolysis Mode
Anti-collapse mode
Fine Lines Mode
Smoothing fine lines to fight the first age
Lifting Mode
Tightens skin and lifts contours
Eye Mode
Improves dark circles and fine lines
The magic of fighting against time!
Ultrasound Energy Customization and Manipulation
lower jaw
Energy:Overclocking
Mode:fixed point+positioning+fixed layer
Duration:60s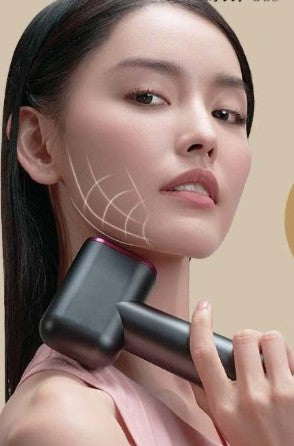 Cheeks
Energy:Overclock
Mode:Slide + Lift
Duration:60s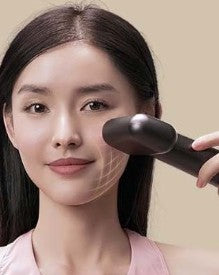 forehead
Energy:Overclock
Mode:Slide + Lift
Duration:60s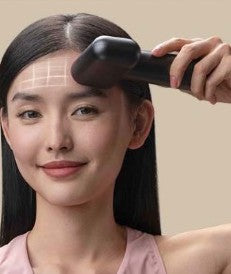 Stick to the 4-week miracle transformation!
RF energy customization and manipulation
Neck
Energy:Radio Frequency
Mode:Slide+Lift
Duration:60s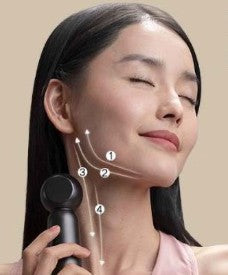 Eye area
Energy:Radio Frequency
Mode:Slide+Lift
Duration:60s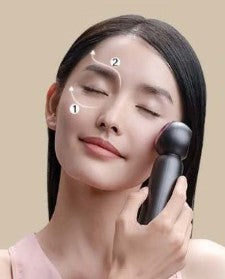 Face
Energy:Radio Frequency
Mode:Slide+Lift
Duration:60s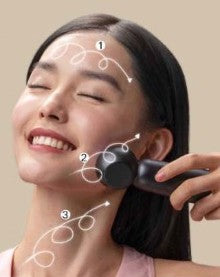 Forehead
Energy:Radio Frequency
Mode:Slide+Lift
Duration:60s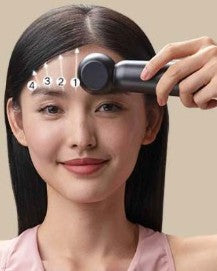 Suggested Usage
STEP1
After cleaning the face, apply sufficient gel to the center of the guide head, connect the power to turn on the machine, select the mode and gear, and press it against the skin. Ultrasound mode should be left on the face and should not be moved during use. In RF mode, please do not stay in the same area for too long.
STEP2
It is recommended to switch the use area in the order of "left face / right face / forehead".
STEP3
After the treatment. Wash the residual gel on the face and clean the guide head.
Cautions
The skin will be dehydrated and dried out after the treatment, so pay attention to hydration.
It is normal for the face to be swollen if used for a long time.
Ultrasound should be used avoiding the corners of the mouth, ears, and the distance between the horizontal fingers of the eyes on Monday.
Forehead ultrasound depth of 3.0mm can not exceed 4.5mm.
Do not use water to directly rinse or soak this product, it is recommended to wipe with a wet wipe to clean up.
When using the ultrasound device, it is recommended to try it from a low gear and gradually increase it.
When using the ultrasound device, please stay in the face prone to fine lines, wait for the beep to appear, change the position of the ultrasound device during use, please do not move, please apply the special gel before trying.
The ultrasonic fluid in the ultrasonic instrument is a consumable product, please replace it after the prompt screen appears.
When using the RF instrument, move the instrument as slowly as possible and replenish the gel at the right time to achieve better results. Please note that the RF instrument should not stay in the same position for too long, too long time system will automatically prompt to ensure your safety operation handle light up to carry out beauty, such as the appearance of the connection line disconnected screen, please plug the connection line before use.
Before use, please follow these instructions:

🚫 Conduct a skin adaptability test before using the instrument for the first time to ensure safety and prevent skin abnormalities.
🚫 Do not use this product under the following conditions:
Patients with heart disease, diabetes, or high blood pressure.
People with facial nerve disorders .Persons who have undergone facial surgeries involving implants.
Individuals with skin diseases, atopic dermatitis, or allergies.
Growing children and individuals who cannot express themselves.
Pregnant individuals or those who may be pregnant.
Individuals who have undergone eye surgeries (please consult a doctor if you have had LASIK surgery).