ADERANS LED light wave charm hair comb
SKU: ADERANS hair comb
ADERANS LED light wave charm hair comb
Ship from Hong Kong.
Aderans
Technology Empowers Hair Confidence
LED light wave hair comb enhanced version
HAIRREPRO DORAISE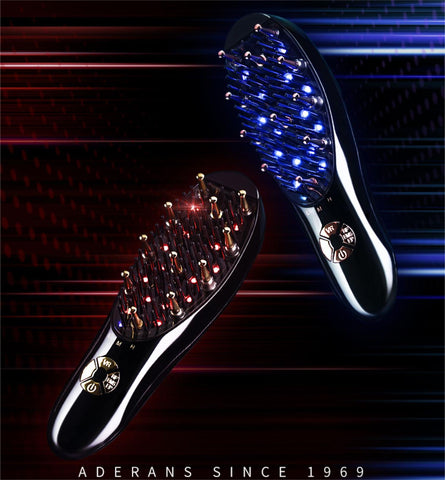 Reshape scalp ecology for healthy and strong hair
Are you still bothered by scalp problems?
Increased hair loss, receding hairline, redness and acne on scalp, greasy and itchy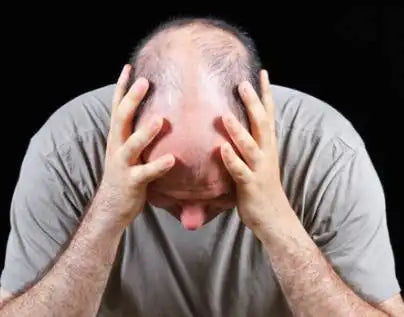 Triple Effect Root Cause Repair 28 LEDs Red & Blue Light Plus
1 Volumizing and Dense Hair
28 red and blue light sources work evenly on the scalp
Deeply moisturize the skin to promote circulation, repair and activate hair follicles
EP, EMS, RF collaboration
2 Scalp care
Tighten the scalp, deal with multiple problems of the scalp to help promote the absorption of serum
3 Scalp soothing
Vibration mode, SPA-level massage experience to wake up the scalp layer, relieve stress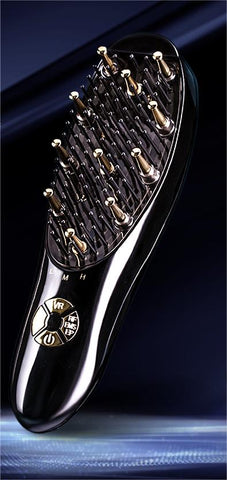 LED "red" light
-Aging hair                                                      regains elasticity

Promotes scalp circulation through the skin
Increases collagen in the scalp area to give the scalp follicles a boost of vitality
LED "Blue" Light
Damaged Hair                                                Self Care

Tightens the scalp and balances the sebum state
Optimizes the scalp's condition and keeps it in a stable and fresh state
Traditional products can only stay on the surface of the scalp and cannot penetrate deep into the hair roots for absorption
Three levels of ultrasonic current
Innovative scalp care concept
Enhance oil discharge and let hair roots breathe freely
The head is made up of the entire skin, and the elasticity of the face is closely related to the state of the scalp. When caring for the scalp, electric current is used to soothe the scalp and promote the fullness and firmness of the facial skin.
EMS low-frequency
current soothes the scalp and balances sebum (enhanced version improves 1.9 times* body sensation)
RF radio wave heating 
accelerates circulation (enhanced version with 1.5 times more* warmth)
EP microcurrent introduction
helps to promote the introduction of - elasticity and shine (enhanced version to improve 1.9 times * introduction of current)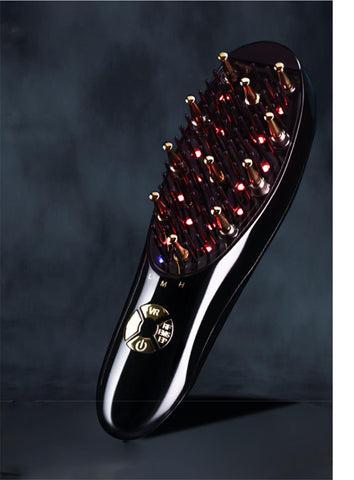 VR dual vibration mode for different skin ages
Awaken the scalp and relieve stress
2 high and low massage modes 7 minutes per day
One click to switch! Enjoy a sophisticated salon experience
High9000 times/min Low:6000 times/min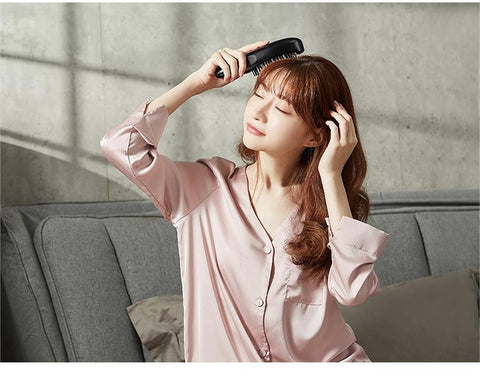 IPX5 water resistant comb post with IPX5 rated design

11 high grade titanium components in the 18k gold coated massage comb head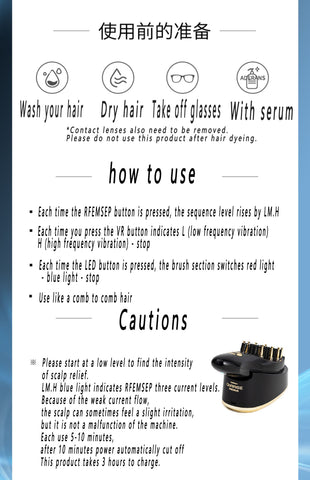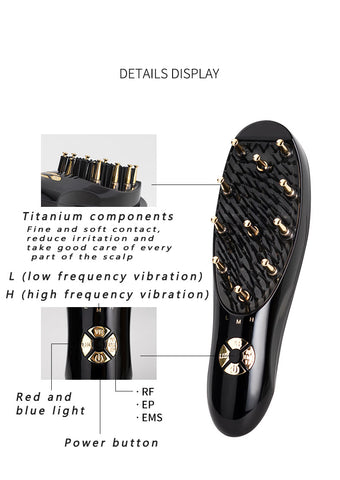 LED light charm hair comb
Size: 189.5 * 56 * 52mm body weight: about 170g
Waterproof level: IPX5 (only the comb and comb column part)
country of origin: Japan
Standard equipment: host, charger, special storage bag AC adapter, USB-C cable manual and warranty card

ADERANS SINCE 1969
The Aderans Group is committed to the development and research of hair-related businesses,with the goal of promoting a healthy and enriched life.
From solving hair troubles to taking care of scalp health.
Our products include custom-made wigs and hair care, and we are developing a global business with high-quality products and services.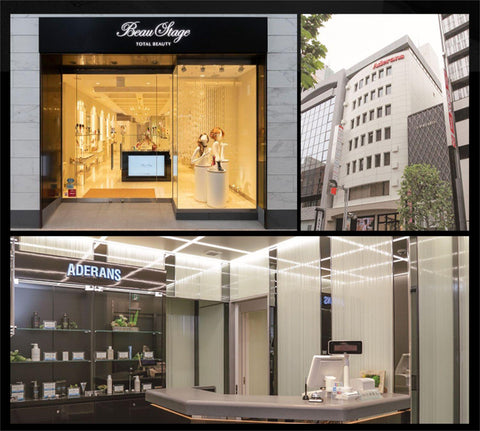 Instructions before use
1. To prevent skin abnormalities, please conduct a skin adaptability test before using this instrument for the first time to ensure safety.
2. To prevent skin and body discomfort, please do not use this product under the following conditions.
·Patients with heart disease, diabetes, and people with high blood pressure;
·People with facial nerve disorders;
·Skin disease or patients with atopic dermatitis;
·Patients with photosensitive epilepsy;
·Those with allergies, or those with sensitive skin easily irritated by cosmetics, clothing, metal, etc.;
·Growing children and people who cannot express themselves (otherwise it may easily lead to skin injury, inflammation, increased pain or severe symptoms, etc.);
·Those who are pregnant or may be pregnant (otherwise, skin discomfort may occur due to hormonal imbalance);
·Persons who have received metal, silicone, plastic, etc. implant surgeries on their face due to fractures, plastic surgery, etc.;
·People who have retinal detachment or have suffered from retinal detachment;
·People with bleeding disorders, hemophilia and other blood abnormalities;
·Persons with head and eye sequelae due to traffic accidents, etc.;
·Persons who have undergone eye surgery (people who have undergone LASIK surgery, please consult the attending physician);
·Persons whose skin has no sensory ability.
3. Please do not use this product on the following areas, otherwise it may cause skin or body discomfort.
·The area that received laser/photon hair removal on the same day;
·Skin abnormalities (skin inflammation, excessive sunburn, injury);
·Sick spots, moles or viral warts;
·Acne areas with wounds, eczema, psoriasis, herpes, and suppuration;
· Areas where surgical (plastic, cosmetic, etc.) operations have been performed;
·Tattooed areas (including artistic makeup); (otherwise it may easily lead to skin injury, inflammation, increased pain or severe symptoms, etc.);
·Do not expose eyes directly;
·Do not use it on the eyes, eyelids, orbital bones, eyebrows, ears, etc. 
Before use, please follow these instructions:

🚫 Conduct a skin adaptability test before using the instrument for the first time to ensure safety and prevent skin abnormalities.
🚫 Do not use this product under the following conditions:
Patients with heart disease, diabetes, or high blood pressure.
People with facial nerve disorders .Persons who have undergone facial surgeries involving implants.
Individuals with skin diseases, atopic dermatitis, or allergies.
Growing children and individuals who cannot express themselves.
Pregnant individuals or those who may be pregnant.
Individuals who have undergone eye surgeries (please consult a doctor if you have had LASIK surgery).