BEAUTIGO Red Light Wave Ice Light Treatment Hair Removal Device
SKU: BEAUTIGO Hair Removal Device
BEAUTIGO Red Light Wave Ice Light Treatment Hair Removal Device
Ship from Japan or Hong Kong.
Clean in Autumn and Winter Free in all seasons
Unlock the 3 reasons why autumn and winter are more suitable for hair removal
1、Compliance with the cycle - hair removal light
Full coverage of hair cycle without deliberate waiting
2、Weak UV rays - speed up skin whitening
Autumn and winter ultraviolet light weak melanin more quickly fade
3、Avoid the sun - protection more easily
Long clothes and pants, sun protection more tightly thoughtful.

Patented two-dimensional heat dissipation technology
Continuous ice sensation, comfortable hair removal
With the patented double-dimensional heat dissipation multiplier technology, the stable 10℃ ice sensation is guided by the low-temperature plane outlet, which makes the whole process of hair removal comfortable and cool.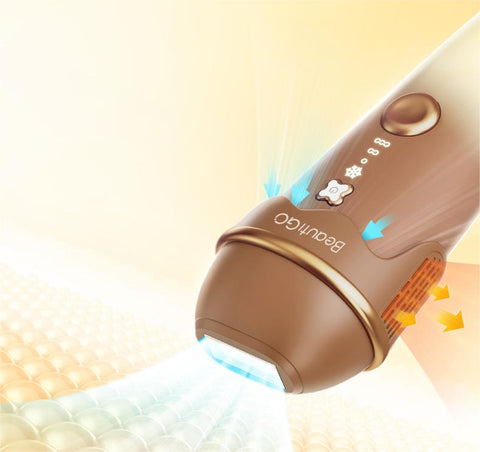 600-1200nm long red light wave
Deep hair purification Reduction of dark spots
Targeting the melanin in the hair follicle, deeply relieving the hair growth rate and achieving a fine and soft volume
Skin sensing upgrade
Automatic skin recognition to prevent accidental light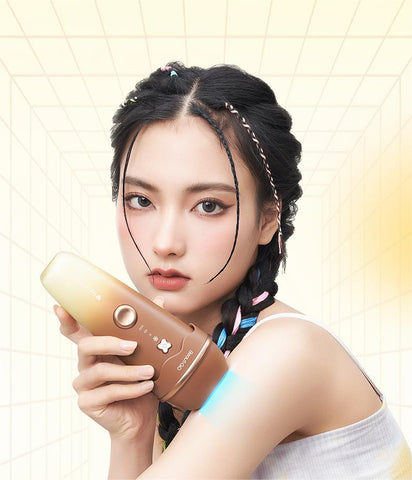 Anti-drop latch design
One plug a spin lock power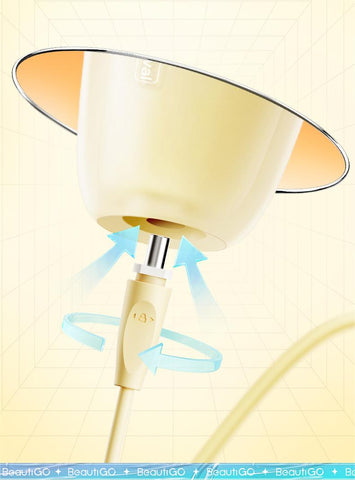 6 Easy Steps
1, hair removal tool selection
Scratch & Hand Shaver
With the foam to wet or bath scraping hair in the same direction to gently remove hair
Note: Sharp scraper is prohibited to dry shave
Shave a shave & electric shaver
Use electric shaver to shave the hair of the hair removal area
Note:Please do not shave or carve hair on the skin is not clean hair removal instrument hair removal, otherwise may cause adverse conditions.
2、Compare the skin color card to find the corresponding skin color.
3、Short press the power button to adjust the energy according to the skin color card to choose the appropriate gear.4、Wearing goggles to protect the eyes in all aspects
5, the light head close to the skin press the light button to start hair removal
Note: It is recommended that each part back and forth light 2 times, hair removal effect is better.
6, after finishing hair removal, apply aloe vera gel or body lotion to further care for the skin.
Note:Avoid touching water within 6 hours after hair removal, avoid exposure to the sun within 24 hours.

Product parameters
Product name: Intense pulse light therapy instrument
Pulse energy maximum energy: 17.5J earth 20%
Gear adjustment: 3 gears (strong-medium-weak)
Product color: milk curry
Instrument net weight: 350g
Product size: L73xW62xH181(mm)
O&A your concerns about the use of
O: Why do I need to shave the surface hair before hair removal?
A: Shaving before using the device can make the pulsed light penetrate deep into the hair follicle to delay the growth of melanin to achieve the effect of hair removal. After shaving, you need to observe for 12 hours, no red and itchy symptoms before use.
O: Does it hurt during hair removal?
A: The device adopts the double-dimensional heat dissipation technology, and the temperature of the treatment port is maintained in the range of 3°C-15°C within 1 minute when the device is used, so it is a cool and comfortable experience.
Q: Will there be discomfort when using?
A: The product is equipped with red light waves that can penetrate deep into the hair follicles and only act on the hair papillae, so you can use it without worry. Please read the product manual carefully or buy and use under the guidance of medical personnel before use.
Q: Which people/areas should not be used?
A: The following conditions are not recommended
1. People who are pregnant or breastfeeding.
2. Patients with skin diseases such as folliculitis, follicular occlusion or photosensitivity.
3. Scars, stretch marks and other sensitive skin areas.
4. Tattoos, acne marks, birthmarks, moles, freckles and other areas of uneven skin tone.

Before use, please follow these instructions:

🚫 Conduct a skin adaptability test before using the instrument for the first time to ensure safety and prevent skin abnormalities.
🚫 Do not use this product under the following conditions:
Patients with heart disease, diabetes, or high blood pressure.
People with facial nerve disorders .Persons who have undergone facial surgeries involving implants.
Individuals with skin diseases, atopic dermatitis, or allergies.
Growing children and individuals who cannot express themselves.
Pregnant individuals or those who may be pregnant.
Individuals who have undergone eye surgeries (please consult a doctor if you have had LASIK surgery).