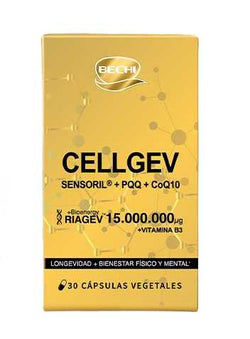 BECHI Cellgev Sensoril 4th Generation Nicotinamide Small Gold Box 30 Capsules
BECHI Cellgev Sensoril+PQQ+CoQ10
4th generation cell gold box 30 capsules
/bottle Coping with aging/tiredness/sub-health
17 major international patent blessings
Cell fast charging and health empowerment
The new 4th generation "BECHI cell gold box"
PATENT CELLULAR NUTRITION
Frontier 17 international patent numbers
Have a patent to have real effect
BECHI uses a number of cutting-edge high-end life science technologies,
Establish long-term clinical cooperation with the world's top research institutions and laboratories of universities,
Rejuvenate mitochondria from the source, patented to supplement cell energy.
CELLULAR ENERGY FORMULA
4 large cells of golden energy
High-level charging 1 piece of gold
Bioenergy RiagevTM Patented Riboside
Currently the only "naturally dominant pathway" to generate cellular energy
patent factor, higher efficiency
Activation of sirtuin longevity protein
The only patented and FDA safety certified ribose
European and American double safety certification: EU Food Safety Administration EFSA, US Food and Drug Administration GRAS certification

PQQ Mitochondrial
Mitochondrial rejuvenation effect is 1000 times higher than the market
1000 animal and human research tests
Through 175 authoritative academic researches
The only safe PQQ approved by EU EFSA
Won multiple international nutrition awards such as NutrAward

Sensoril® Energy Factor
Known as the king of traditional Indian Ayurvedic herbs
6000 Years of Traditional Medicinal History
Multiple U.S. and international patent protection
Kosher, Halal food certification and organic certification
Clinical stress relief - 62%, 7 times fatigue improvement

NADH Life Coenzyme No. 1
Cell technology at the top of the pyramid, a century-old scientific research history in 1906,
Nobel laureate discovers for the first time
Directly and efficiently decomposed without transformation in the body
The cost is extremely expensive, up to hundreds of thousands/kg
Accredited by NASA
Higher quality 4th generation cell energy source
Four generations of patents
The only natural way to generate cellular energy
All-round Sufficient Mitochondrial Formula
cell gold box
US FDA EU EFSA safety certification
BECHI's fourth-generation patent "cell gold box"
Coping with aging/tiredness/sub-health
1. Inexplicably tired and sleepy
2. No energy at work
3. Poor sleep quality
4. Always sick
5. Memory loss
6. Poor complexion and look old
30+ struggling elites
Energy and energy "Quick charge" mode, easily cope with busyness and stress, and support the rising period of the workplace with full energy
50+ elder parents
Protect health at the cellular level, ignite vigorous vitality, strengthen body functions, and enjoy a high-quality old age life
Quality life maintenance
Inject the amount of cell "grains" to rejuvenate youthful vigor, improve skin condition/spiritual energy/brain power, and feel a better life.
Breakthrough 5 live particle pathways, a natural and effective way that is unanimously recognized by global scientific research
1 Increase energy coenzyme levels
2 Activate Mitochondria
3 Supplement Life No. 1 Coenzyme
4 Protect mitochondrial DNA
5 Enrich Cellular Energy
Global cutting-edge clinical research creates professional nutritional strength
Universitat de Barcelona
One of the oldest prestigious institutions of higher learning in the world
Ranked No. 1 in Spain, home to three major biomedical research institutes
University of Elche
Home of the Institute of Molecular and Cellular Biology (IBMC)
Committed to multidisciplinary research at the cellular level in the field of health
Universidad de Alicante
Member of the Association of European Universities
Good at biotechnology and biomedical research, such as applied immunology, etc.
PRODUCT EFFECT
BECHI 4th generation cell gold box
Specifications: 30 capsules/bottle
Appearance: Capsule
Expiry date: see product packaging
Dosage: Take 1 capsule per day
Storage method: place in a cool place, keep away from light and seal
Kind tips
This product is a dietary supplement, not a substitute for medicine. Please consult your doctor or BECHI nutritionist during pregnancy and lactation.
Before use, please follow these instructions:

🚫 Conduct a skin adaptability test before using the instrument for the first time to ensure safety and prevent skin abnormalities.
🚫 Do not use this product under the following conditions:
Patients with heart disease, diabetes, or high blood pressure.
People with facial nerve disorders .Persons who have undergone facial surgeries involving implants.
Individuals with skin diseases, atopic dermatitis, or allergies.
Growing children and individuals who cannot express themselves.
Pregnant individuals or those who may be pregnant.
Individuals who have undergone eye surgeries (please consult a doctor if you have had LASIK surgery).