BOXURY Pro RF Beauty Instrument
SKU: BOXURY Pro
BOXURY Pro RF Beauty Instrument
Ship from Hong Kong.
28-day* authoritative test results of real people
Skin radiance, volume of normal lines, area of normal lines
+38.59% -28.89% -21.41%
+8.19% skin elasticity +8.09% skin firmness pore area -2.83%

*Efficacy and 28-day significant effective data are the results of 36 Chinese women aged 29-54 years old who used BOXURY multifunctional skin rejuvenation RF device + official sodium hyaluronate gel for 4 weeks.
Report No. WP1-210500007-JC-02. The actual results vary from person to person and will not be repeated below.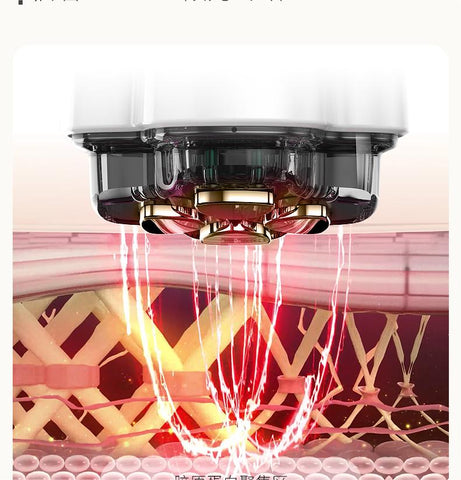 01
RF Multipolar
Deep touch collagen renewal

The energy penetrates 2-4mm into the dermis, and the collagen is renewed; the warmth + pulse + electric current sense of three-dimensional aggregation of beauty power, helping the skin bounce and tighten.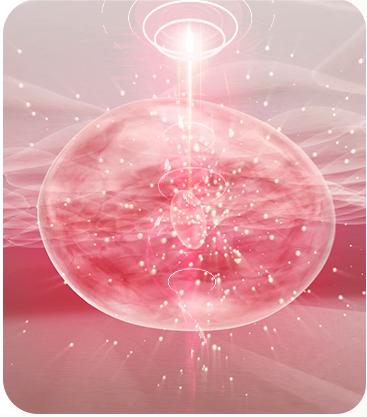 02
Specially researched gold core value microcurrent
Directly reach the bottom of the muscle to lift and tighten

The energy reaches deep into the fascia and muscle layer to tighten the skin from the inside out.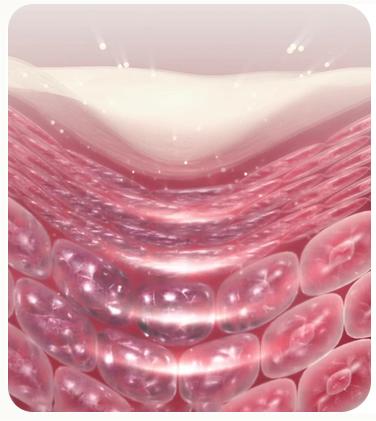 03
Red, green and blue energy light therapy synergistically reconstructs the elastic and tender skin texture

Red, green and blue triple energy light therapy synergizes red light to rejuvenate and brighten, green light to soothe and blue light to control oil and acne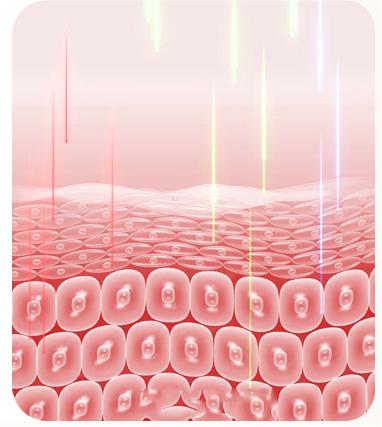 04
VR vibration deep soothing introduction

130 times per second high-frequency micro-vibration, soothing irritation, promote skin circulation; open the cell gap, promote skin care products doubled absorption, deep nourishment of the muscle base.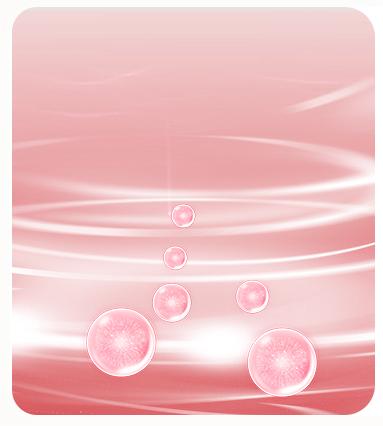 Instructions for use

Makeup removal and cleansing
Please make sure the instrument is fully charged before first use
Squeeze the right amount of gel and apply evenly on the face, adding the right amount of gel according to your personal situation.
Press and hold the power button to turn on the machine and select the gear
Face Forehead For the first time use, it is recommended to start from L position
Refer to the left side of the diagram slide care face process if you feel the slide is not smooth, please add the appropriate amount of gel
After 10 minutes of full face treatment, the machine will automatically turn off and wash off the gel with water
Then follow up with your face.
Around the eyes, neck, non-usable parts

1. Each side of the face recommended care time of no more than 5 minutes.
2. Each side of the face is recommended to apply 2-3 pea-sized gel. Care gel dry is a normal phenomenon, be sure to reapply the gel to ensure that the care effect.
3. The instrument will automatically shut down after 10 minutes of power on, restart it. Note: Do not stay in the same position for more than 3 seconds
Attention
Instructions for use
If you are unable to judge, please consult your physician before purchasing

Do not use on the following areas: cuts, plastic surgery areas, pus-ridden skin
Inflamed areas, itchy and red areas, eyelids, thyroid gland of the neck, etc.

Do not use medical electronic devices such as pacemakers, artificial heart-lung machines, or electrocardiogram simulators;
2 Those who are receiving treatment, patients with skin diseases, patients with fever, patients with high blood pressure, patients with acute diseases, patients with
Do not use if you are under treatment, if you have skin disease, if you have fever, if you have high blood pressure, if you have acute disease, if you have tuberculosis, if you have visceral disease, if you have capillary dilation, etc:
3 Do not use during physiological period, pregnancy, lactation and other periods;
4 Please consult your physician before using the product after medical procedures such as hydroluminescence, thread sculpting and photorejuvenation.
Follow the doctor's instructions;
Do not use if you are suffering from skin diseases, allergies, sensitive and fragile skin, hereditary dermatitis, or if you are unable to sense the temperature;
Do not wear contact lenses when acting around the eyes: people with current or previous eye diseases (strabismus, cataracts, glaucoma, optics, etc.)
Do not use if you have current or previous eye disease (strabismus, cataract, glaucoma, retinal detachment, fundus hemorrhage, mydriasis, abnormal eye pressure, etc.);
If you have had laser/myopia surgery (full femtosecond, half femtosecond, ICL implantation, etc.) or facial plastic surgery, please consult your doctor after recovery and follow medical advice;
8
Please avoid using it during dental treatment, during orthodontic treatment, after filling, or when there are fillings in the mouth:
9 Allergy-prone people are recommended to use the gel behind the ear first, and then use it after there are no allergy symptoms:
Use with caution in patients undergoing treatment, patients with fever, hypertension, acute diseases, malignant tumors and blood diseases.
Before use, please follow these instructions:

🚫 Conduct a skin adaptability test before using the instrument for the first time to ensure safety and prevent skin abnormalities.
🚫 Do not use this product under the following conditions:
Patients with heart disease, diabetes, or high blood pressure.
People with facial nerve disorders .Persons who have undergone facial surgeries involving implants.
Individuals with skin diseases, atopic dermatitis, or allergies.
Growing children and individuals who cannot express themselves.
Pregnant individuals or those who may be pregnant.
Individuals who have undergone eye surgeries (please consult a doctor if you have had LASIK surgery).