CHOUOHC THE MORPHO anti aging beauty device
SKU: THE MORPHO
CHOUOHC THE MORPHO anti aging beauty device Ship from Japan or Hong Kong.
"CHOUOHC" was born from the "graceful dancing" of butterflies.

It's a simple yet luxurious feeling, and a beautiful time when your heart and skin are full of joy.

As if the butterflies were led to the skin like a flower.
Warranty 
MYERNK is an authorized agent of  CHOUOHC and provides 12 months limited warranty for  CHOUOHC.
Function


Combining the functions of MFIP * 1, Ultra Pulse® and RF,
Achieves high functionality. This mode allows you to efficiently introduce elasticity care and beauty ingredients * 2 in a short time.

* 1. Mid Frequency Interval Pulse Mid Frequency Interval Pulse
* 2. Up to the stratum corneum
Increase tension care
MFIP * 1 is like tapping an esthetician by making Ultra Pulse act intermittently.
Creates a unique experience. In addition, by repeating the expansion and contraction of the muscles, the firmness care is further enhanced.
Cosmetological ingredients to every corner of the skin
Insert pulse * 3, EMS, medium and high frequency generated by UP (ultra pulse) original current pulse from 4 elements
It is output at the same time. While gently warming the skin, it approaches the facial muscles and moisturizes the stratum corneum.
Firmly warms the skin
It warms the skin and improves the condition.
By gently warming the skin from the deep part, it leads to firm skin.
Care for facial muscles
LED. Treat your worries with the wavelength of light
I will support you.
Safety design. With a safety design that operates after touching the skin
It has become.
Platinum Ep element. With platinum, which has a low ionization tendency
The surface is coated.
vibration. With gentle vibration, you can expect a massage effect as well as alleviate the stimulation by electricity.
Type-C USB. It can be easily charged with a personal computer or the like.
It is rechargeable and can be used anywhere.
(Please use the included USB cable for charging.)
Discerning head. By flattening the head surface, you can apply beauty essence.
Ease of use by applying to the head
I pursued it.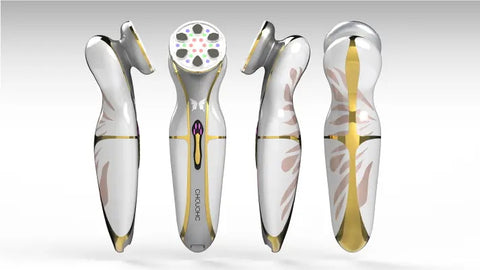 How To
Daily care

[1] Care for facial muscles
Use "RE Mode".

Apply 2 pushes of gel to the head of the main body.

(1) Apply it to each location for about 3 seconds and move it gradually.
First, from under your chin to your shoulders.
② Similarly, move from the chin to the temples.
③ Similarly, move from the eyebrows to the hairline.
Weekly care

[2] Introduce beauty essence ingredients to necessary parts of the skin * 4
* 4 Up to the stratum corneum

Use "RM Mode".Apply 2 pushes of serum to the head of the body.

① Slide from under your chin to behind your ears, from behind your ears to your shoulders.
② In order from the chin, slide it outward as if pulling it up.
③ Slide from the bottom to the top from the eyebrows to the hairline.
[RM Mode]
Achieves high functionality by combining the functions of MFIP * 1, Ultra Pulse®, and RF. This mode allows you to efficiently introduce elasticity care and beauty ingredients * 2 in a short time.
* 1. Mid Frequency Interval Pulse Mid Frequency Interval Pulse
* 2. Up to the stratum corneum

[RE Mode]
By combining EMS and RF, we realize efficient facial muscle care that approaches muscles with EMS while warming.

Specs

Input voltage, Frequency range, Current : AC100-240v50/60Hz,DC 5V. 1A

Dimension : 209mm*53.5mm*63mm
MORPHO Series
It keeps blooming with a dense moisturizing supply.
Daily care for skin aging signs * 5 to deliver vitality to every corner of the skin * 6,
A cosmetic series that leads to the emergence of beautiful women. * 5. Dryness, rough skin, etc.
* 6. Up to the stratum corneum