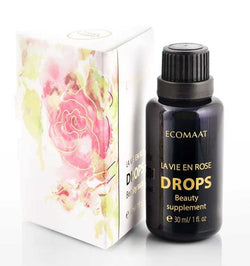 ECOMAAT Rose Dew Brightening Whitening And Freckle Removing Oral Solution
SKU: ECOMAAT LA VIE EN ROSE
ECOMAAT Rose Dew Brightening Whitening and Freckle Removing Oral Solution 30mL/1 fl.oz.
Ship is from HongKong.
Sip your way to a calmer, happier, younger looking you!
The delightful floral aroma of these drops is soothing and uplifting. It is the natural scent of the Rosa Damascena which contains an aromatic compound—terpenes—that brings you a sense of calmness, positivity, and happiness. La Vie en Rose Drops will be your "love at first sip!"
These drops are packed with vitalizing nutrients—including flavonoids, essential fatty acids, and vitamin C—that help rejuvenate the appearance of your skin from the inside out. They help your skin to look younger, clearer, plumper, and more radiant. So, include these rose drops into your daily diet for best results.
La Vie en Rose Drops are pure extract of fresh, organic, Bulgarian Rosa Damascena (rose). There is no added sugar or sweetener. The subtle floral taste comes from the rose itself. These drops are caffeine-free, so you can take them with your healthy diet whenever you want.
Are they rose water?
La Vie en Rose Drops are not concentrated rose water! They contain the bioactive compounds of Rosa Damascena, which are extracted using revolutionary technology called supercritical CO2 extraction. The potency and effectiveness of La Vie en Rose Drops are unmatched by any rose waters.

What goes into each bottle?
Each bottle contains only pure extract of Rosa Damascena. Our product is free of artificial ingredients and is 100% organic certified by the U.S. Department of Agriculture (USDA).

What is Rosa Damascena?
Rosa Damascena is a rose variety and a super herb. Its benefits and uses are described here.

Where does the Rosa Damascena come from?
The Rosa Damascena we use is cultivated in our own field in Rose Valley, Bulgaria, just to make sure our quality is truly premium.

How are La Vie en Rose Drops made?
The blossoms of the Rosa Damascena are handpicked at their prime. Their bioactive compounds are extracted while they are still fresh and fragrant. Each bottle is packed with approximately 18,000 fresh, organic, Bulgarian Rosa Damascena petals and air-sealed in UV-resistant glass bottles at the source to preserve freshness and potency.

Is there any sugar or caffeine in the drops?
There is no added sugar or sweetener. The drops are naturally caffeine-free. La Vie en Rose Drops have a subtle, sweet taste that comes from the plant itself.

Are they pregnancy and breastfeeding-friendly?
We do not recommend them for pregnant women or breastfeeding moms.

Do they require refrigeration?
No refrigeration is needed, just store them in a dark dry place, below 77°F (25°C).
Before use, please follow these instructions:

🚫 Conduct a skin adaptability test before using the instrument for the first time to ensure safety and prevent skin abnormalities.
🚫 Do not use this product under the following conditions:
Patients with heart disease, diabetes, or high blood pressure.
People with facial nerve disorders .Persons who have undergone facial surgeries involving implants.
Individuals with skin diseases, atopic dermatitis, or allergies.
Growing children and individuals who cannot express themselves.
Pregnant individuals or those who may be pregnant.
Individuals who have undergone eye surgeries (please consult a doctor if you have had LASIK surgery).