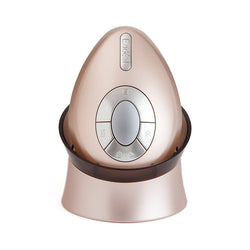 EXIDEAL OVO glowing egg LED light therapy device
SKU: EXIDEAL OVO glowing egg
EXIDEAL OVO glowing egg LED light therapy device
ship from Japan or Hong Kong.
LED light therapy for skin rejuvenation, oil control and acne suppression
Professional research and development from the originator of LED light therapy
5.5 high brightness, high output LEDs
Precise action Experience hospital-grade light therapy
Circumferential optical design
Can increase the irradiation power by 20%-30%
4 kinds of beneficial light Compound emission of 10,000 times per second inter-rush light wave

468nm blue light
Anti-acne and oil-balancing
591nm yellow light
Anti-ageing and goodbye to yellowing
632nm Red Light
Promotes skin repair and firming
940nm Near Infrared
Promotes blood circulation and moisturizes and locks in water
EMS Microcurrent Lifting and Firming
Directly hit the muscle layer from the source to solve the sagging use of weak current on muscle and lymphatic stimulation, contraction of muscle to achieve the effect of dehydration and lifting and firming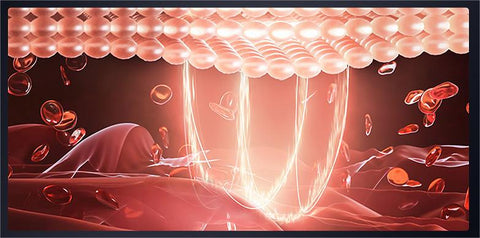 RF Radio Frequency to reduce fine lines
Using radio frequency waves to heat the skin's substrate, stimulate collagen regeneration to enhance skin elasticity and smooth wrinkles
Ionic export Deep cleansing
Negative ions adsorb residual skin impurities
Deeply cleanses pores and allows skin to breathe deeply
Ion introduction Promotes absorption
Positive ions promote the absorption and penetration of skin care products
Increases skin absorption and amplifies the effectiveness of skin care products
4 modes of targeted solutions
Meet the different needs of the skin
1、Work life daily stay up late
Sagging skin, flattened apple muscle
P1 Mode LED&EMS
Lifting and Firming
Reshape V face
Restore elasticity
2、Environmental pollution Bad living habits
Fragile and sensitive skin Acne and pimples
P2 mode LED & ion export
Eliminate acne and purify skin
Strengthen the skin's foundation
Deep cleansing
(Use with cotton pads)

3、Ageing, collagen loss accelerates
Dry lines and lines appear gradually
P3 mode LED&RF
Moisturizing and locking water
Anti-wrinkle and skin tightening
Collagen activation
4、Traveling on business Tanning and sunburn
Pigmentation Dullness and lack of light
P4 mode LED & ion introduction
Brighten skin tone
After Sun Care
Promote absorption
Parameter Accessory Information
Place of origin: Japan
Host weight: 210g
Charging time: 2 hours
Voltage:100V-240V
Box*1
Host*1
Charging base *1
Charger*1
Instructions for use
If you are unable to judge, please consult your doctor or customer service before purchasing
I. Unsuitable people
Do not use this product if you have any of the following conditions, otherwise it may cause accidents, skin and body problems:
People who may suffer from seizures caused by flashing lights:
-People with allergies, people with a history of allergy to chemical fibers, metal allergy, sensitive skin or light sensitivity;
-People who have or have had the following diseases: acute diseases, abnormal blood pressure, blood diseases (bleeding disorders, hemophilia, etc.), febrile diseases, malignant tumors, infectious diseases (infectious diseases), internal diseases, facial nerve disorders, acute painful diseases (sprains, muscle strains, etc.)
-People with bone abnormalities, such as osteoporosis, fractures, etc.;
. Head or eye sequelae due to traffic accidents, etc.;
People with skin diseases or old skin-related diseases, such as dermatitis (atopic dermatitis, contact dermatitis, excessive sunburn, etc.), eczema, skin swelling, moles, purple spots, black skin;
-People who use hormonal agents for a long time or have liver dysfunction that causes capillary dilation
-People who are in the physiological period, pregnant, one month after delivery and breastfeeding should use according to their own condition;
People who are undergoing dental treatment or suffering from lower collar joint disorder syndrome;
People who are in the growth stage;
People who have consumed alcohol or are taking drugs (especially sleep-inducing drugs);
-People who feel fatigued, are unwell or need to rest;
-People who have a body temperature of 38°C or higher (fever);
Do not use this product on the following skin or areas
-Sensitive skin;
-Near the heart, nodes of the throat, eyelids, eyeballs, eye sockets, mouth, pubic area, mucous membranes, etc.; thin skin areas (above the bones);
Surgical sites such as accidents or plastic surgery;
Implants (metal, silicone, plastic, etc.)
Skin perception disorders (especially for people who cannot perceive heat);
Scratch or raised mole areas;
Pus-forming areas due to acne, pimples, etc;



Before use, please follow these instructions:

🚫 Conduct a skin adaptability test before using the instrument for the first time to ensure safety and prevent skin abnormalities.
🚫 Do not use this product under the following conditions:
Patients with heart disease, diabetes, or high blood pressure.
People with facial nerve disorders .Persons who have undergone facial surgeries involving implants.
Individuals with skin diseases, atopic dermatitis, or allergies.
Growing children and individuals who cannot express themselves.
Pregnant individuals or those who may be pregnant.
Individuals who have undergone eye surgeries (please consult a doctor if you have had LASIK surgery).