FLOSSOM Pro Anti-Aging Radio Frequency Device
SKU: FLOSSOM Pro
FLOSSOM Pro Anti-Aging Radio Frequency Device 
FLOSSOM Anti-Aging RF Device Pro
Specializes in nasolabial wrinkles and fades them 8 times faster
Exclusive "eight-shaped pattern" electrode tip
Specially designed for "eight-shaped lines", it can fade wrinkles 8 times faster.
0 gap precise card position
360° no dead angle fit
8 seconds to heat up and focus more
Slightly convex design

Specializing in depressions
Pure graphic design

No dead spots on the skin
central axis design

Light lines like "stamping"
Exclusive "eight-shaped pattern" electrode tip
8 times the penetration power",
Bang the "law pattern".
16 Deep-RF Technology
Iron it! It's so fierce! It's so powerful!
1 frequency stimulates 1 layer of collagen, 16 frequencies stimulates 16 layers of collagen
Targeted combat against every deep line
3 layers of energy, 3 points to repel the "eight-character pattern".
Super strong red light, skin rejuvenation and brightening
16Deep-RF radio frequency, light lines and bullets
Strong EMS current, tight contours
7-dimensional light eye wrinkles
-25.76%crow's feet
-30.37% lines under the eyes
+6.67% skin color around eyes
96.77% of the subjects agreed to lift the corners of the eyes
Ironing out nasolabial folds
3 layers of full energy, iron deep lines to the end
4-week real-person test to reduce nasolabial folds
Nasal wrinkles-23.44%
Used for 0 days and used for 28 days
V-tight and loose lines
3 times anti-gravity, pulling wrinkles upward
100% subject approval
Lift jawline
Skin elasticity +15.31%
Skin firmness +11.00%
V-tight and loose lines
3 times anti-gravity, pulling wrinkles upward
100% subject approval
Lift jawline
Skin elasticity +15.31%
Skin firmness +11.00%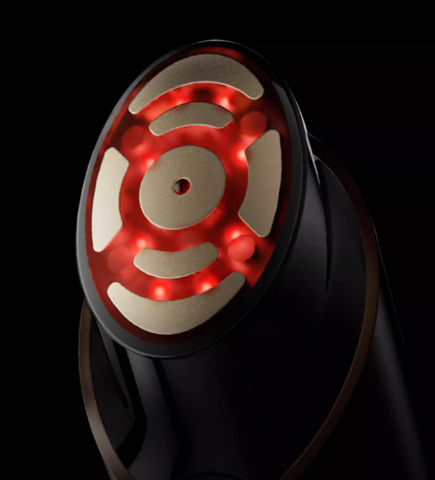 FLOSSOM Anti-Aging RF Device Pro
product information
Brand: Flossom Huazhi
Model: FR100 Pro
Product name: FLOSSOM Anti-Aging RF Device Pro
made in China
Frequency of use: 5 times a week
Charging time: about 150 minutes, usable for about 60 minutes
Product weight: about 240g (including upper cover)
Body size: about W36*D42*H173.5mm (including upper cover)
Rated input: 5v=2A (host)
RF frequency: 0.5-2.5MHz
Product List
Host*1
Packing box*1
A letter to users*1
Gel*1
Storage bag*1
Instruction manual*1
Power adapter*1
USB charging cable*1
Q&A usage questions and answers
Q: Is it normal for the current sense to "intermittent" and "high and low" when using the instrument?
A: It is a normal phenomenon. In order to prevent the skin from becoming tolerant to the current, the device will continuously present three different rhythmic electric body sensations in the face mode. If you feel the current "intermittent"
"Continued" "suddenly high and sometimes low", this is a normal phenomenon of switching between the three types of electric body sense of the instrument.
Q: What is the reason for "white light flashing" and "white light flashing" when using eye mode?
This is an optical illusion caused by normal electrical current stimulating nerves. Because different people have different tolerances of the skin around the eyes, there is a certain chance that a "flash" or "white light flash" will occur when the current acts on the densely packed nerve areas around the eyes. If the skin around the eyes has weak tolerance, it is recommended to use it at the lowest setting. This problem is not an instrument failure, and the current output value of Huazhi's product is within the safe range specified by regulations.
Q: Will the instrument leak electricity?
A: No electricity leakage. Leakage is the leakage of current due to insulation damage or other reasons.
If there is a certain potential difference between the electrical shell and the mains live wire and the ground for some reason, leakage will occur. The Huazhi radio frequency instrument is powered by a battery, and the power supply voltage is lower than the human body's safe voltage of 36V, so there will be no leakage current in the instrument shell, that is, there will be no leakage of electricity. It is recommended to use with dry hands during use.
Q: When using it, I feel that "the current is too strong/no sense of current" or "the temperature is too hot and not warm enough". Is this an instrument malfunction?
A: Abnormal sensations when using the instrument do not necessarily mean that the instrument is malfunctioning.
Due to weather changes and individual skin types, different body sensations will occur when using the instrument. You may wish to use the instrument in the following ways:
Current sense/radio frequency heating body sense is weak:
1. It is recommended to check whether the battery is low and fully charge the instrument before use.
2. Before use, you can hydrate your skin (such as applying warm water to your face or using lotion, etc.), then apply the gel and use the device.
Strong electric current/radio frequency heating sensation:
It is recommended to use it at a lower level first to allow your skin to gradually adapt, and then gradually increase it to a higher level.
The feeling becomes weaker after using it for a period of time:
It may be that the skin has developed a certain tolerance to energy. It is recommended to stop using the instrument for 5-7 days before using the instrument; or ask friends and family to use the instrument to experience whether there are any abnormalities in the physical sensation of the instrument. If there are still abnormalities, you can contact customer service for consultation.
Q: Why is there no bright red light when the care head is attached to the skin when using the instrument?
A: The eye mode of the instrument is an eye protection setting without red light; the face mode requires the application of gel and skin application to output energy, and the red light of the care head lights up. Therefore, the instrument care head will not emit red light only when it is powered on.
If you are using the face mode and there is still no red light on after applying the gel to the skin, this may be because the human body's impedance value is higher than the instrument's skin impedance protection range. As the weather gets colder, facial skin gradually becomes dry. When the instrument is used, the measured skin impedance may be higher than the protection range of the instrument. To ensure safe use, the instrument does not output energy. It is recommended to hydrate the face before use (such as applying warm water to the face or applying a hydrating mask, etc.). After the skin is hydrated, the impedance will return to the normal range, and the instrument can work normally.
Purchase Notes
If you are unsure, please consult customer service before purchasing.
Instructions for use on eyes
01. For people with high myopia (≥600 degrees), it is not recommended to use it around the eyes;
02. People who currently or have had eye diseases (strabismus, cataracts, glaucoma, retinal detachment, fundus hemorrhage, floaters, abnormal intraocular pressure, etc.) should not use it around the eyes;
03. For those who have undergone eye laser/myopia surgery (full femtosecond, half femtosecond, ICL lens implantation, etc.) or facial surgery, please consult your doctor after recovery and follow the doctor's instructions for use;
Do not wear contact lenses when using
Do not use on the following areas: cuts, plastic surgery areas, suppurated and inflamed areas, itchy and red areas, eyeballs, upper eyelids and other orbital areas.
Other instructions for use
04. Those who are using medical electronic equipment such as pacemakers, artificial heart-lung machines, and electrocardiogram recorders must not use them;
05. People who are undergoing treatment, patients with fever, hypertension, acute illness, malignant tumors and hematological diseases should use with caution;
06. Patients with skin diseases, allergies, people with sensitive skin, hereditary dermatitis, and those who are confirmed to be unable to sense temperature should use with caution;
07. Use with caution if you are drunk, pregnant, menstruating, breastfeeding, or taking sleeping pills;
08. People with telangiectasia should use with caution;
09. People who are allergic to metal materials should use with caution;
10. The plastic surgery area needs to be fully recovered for 30 days before it can be used. If there is a prosthesis, be careful to avoid it;
11. Please consult your doctor before use after medical procedures such as water-light acupuncture, thread carving, photorejuvenation, etc.;
12. Use with caution during dental treatment. Avoid use during orthodontic treatment, after tooth fillings, and those with fillings in the mouth. If the irritation is too strong, please lower the gear and adjust the location of use.
Before use, please follow these instructions:

🚫 Conduct a skin adaptability test before using the instrument for the first time to ensure safety and prevent skin abnormalities.
🚫 Do not use this product under the following conditions:
Patients with heart disease, diabetes, or high blood pressure.
People with facial nerve disorders .Persons who have undergone facial surgeries involving implants.
Individuals with skin diseases, atopic dermatitis, or allergies.
Growing children and individuals who cannot express themselves.
Pregnant individuals or those who may be pregnant.
Individuals who have undergone eye surgeries (please consult a doctor if you have had LASIK surgery).