YDUNVIE Ice Crystal Fractional Laser Beauty Device
SKU: YDUNVIE Ice Crystal
 YDUNVIE Ice Crystal Fractional Laser Beauty Device
Ship from Hong Kong.
Tackle five skin dilemmas head-on
1 machine Proactive response to your skin dilemma
Enlarged pores
Eye Lines
Skin Sensitivity
Acne Pits and Marks
Roughness
Powerful Repair Technology Skin Renewal
2 Steps to Younger Skin
Focuses deep into the dermis
Revitalizes collagen for younger-looking skin
Hospital Grade 1450NM Fractional Laser
Increase collagen and elastic fiber production in the dermis
Improve acne scars, pores, fine lines, roughness and other skin problems
360° ice care rejuvenation instantly soothes and rejuvenates the skin
New 360° Circumferential Condensation
Relieves the pain of lasers
Cool "protective armor" for the skin
3 thoughtful gears to switch at will
Choose the most suitable gear for you
1 gentle intensity
2 comfortable intensity
3 high intensity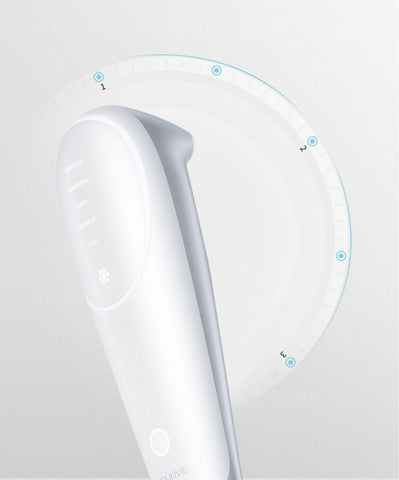 12 minutes of skin rejuvenation and soothing, fine and streak-free
Advanced Skin Care Technology
Hospital-grade 1450nm Fractional Laser
360° Ice Skin Rejuvenation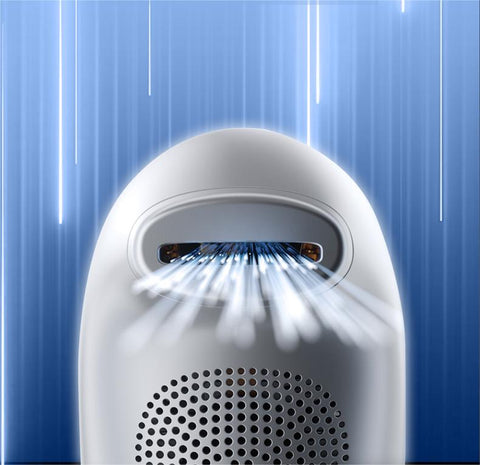 How to use
1-step
Deep Cleansing
Cleanse and dry the face to keep the skin clean and dry.
2-step
Full face scan
Choose the appropriate gear for your needs and scan the corresponding area.
3-step
Follow up skin care
Use moisturizing products to replenish moisture
And pay attention to sun protection.
Instrument accessories include
Packing box*1
Main machine*1
Product manual*1
MICRO-USB cable
Tips to start skin rejuvenation
01. What is the principle of Ecomet Ice Crystal Fractional Skin Rejuvenation Beauty Instrument? Based on laser fractional technology and semiconductor cooling technology, it stimulates cell self-repair and collagen growth without damaging the surface of the skin.
01. When should I use it? How often should I use it?
It is recommended to use at night before going to bed, after cleansing and drying the skin. It is recommended to use it 2-3 times a week, usually within 4 weeks, and after 8 weeks of treatment, you will see a significant improvement in your skin. (The situation varies from person to person)
02. What kind of discomfort will I experience when using it?
During or after use, you may feel slight discomfort, such as a slight tingling sensation, burning, temporary redness, these feelings are normal. Usually, after using our hydrogel mask, it will significantly soothe and enhance the change, and the discomfort will diminish as the number of uses increases.
03. Can I have normal skin care after use?
After use, you can carry out skin care with repair products, and it is important to do a good job of daily sun protection (to avoid pigmentation). Avoid the use of aggressive beauty care products, such as acids or products containing acids, such as fruit acids, salicylic acid, retinoic acid and other ingredients.
04. How does it work?
After 12 weeks of testing by Intertek, a third-party testing organization, there were changes of varying degrees in skin acne marks, firmness, crow's feet, and skin barrier. (The actual effect varies from person to person)
Precautions for use!
1、This product has specified usage, frequency of use, and parts of use, please do not overuse or use in other parts. And use the apparatus according to the specified usage in the instruction manual.
2, 4 weeks before using the instrument, please do not use or suspend the use of topical or oral anti-junctive, as well as acid or acid-containing products.
3, after using the instrument can use repair and hydration products, and pay strict attention to anti-light sun! Pay attention to anti-light sunlight attention to anti-light sunlight!
4, the skin is in the inflammatory period, allergic period, acne period is not recommended to use, it is recommended that the skin in a stable state to use.
5, pregnant or nursing women, minors under 18 years old, please do not use.
6, the use of a slight tingling sensation, redness (a normal phenomenon); if the short-term skin deepening, please suspend use, do a good job of hydration and water retention
Please pay attention to anti-light sun, and continue to use after recovery.
Can not be judged, please consult a physician or customer service in advance; specific precautions for use, be sure to read the instructions carefully.
Before use, please follow these instructions:

🚫 Conduct a skin adaptability test before using the instrument for the first time to ensure safety and prevent skin abnormalities.
🚫 Do not use this product under the following conditions:
Patients with heart disease, diabetes, or high blood pressure.
People with facial nerve disorders .Persons who have undergone facial surgeries involving implants.
Individuals with skin diseases, atopic dermatitis, or allergies.
Growing children and individuals who cannot express themselves.
Pregnant individuals or those who may be pregnant.
Individuals who have undergone eye surgeries (please consult a doctor if you have had LASIK surgery).
YDUNVIE Ice Crystal Fractional Laser Beauty Device