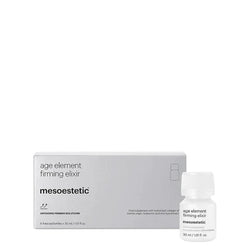 Mesoestetic Age Element Firming Elixir
SKU: Age Element
Mesoestetic Age Element Firming Elixir (6 X 30ml)
ship from HongKong.
Mesoestetic Age Element Firming Elixir - Antiaging FIrming Solutions
A comprehensive action with high-quality marine collagen peptides to assist with stimulating the production of endogenous collagen and protecting it from degradation, as well as active ingredients, such as açai extract and lycopene extract, that curb the oxidative damage. Tangerine and blackberry flavor. No sugars.
How to use:
once a day, evening.
For 6 consecutive days. To optimize results, we recommend carrying out this treatment for 3 consecutive months and repeating it every 3 months.
This pack consists of 6 bottles of 30ml