Koyosha Miracle KII RANTANIA MIRACLEK2 Facial Beauty Device

Koyosha Miracle KII RANTANIA MIRACLEK2 Facial Beauty Device
Ship from Japan or HK.
Commemorative Edition of the 48th Anniversary of Koyo Society A multi-functional beauty device.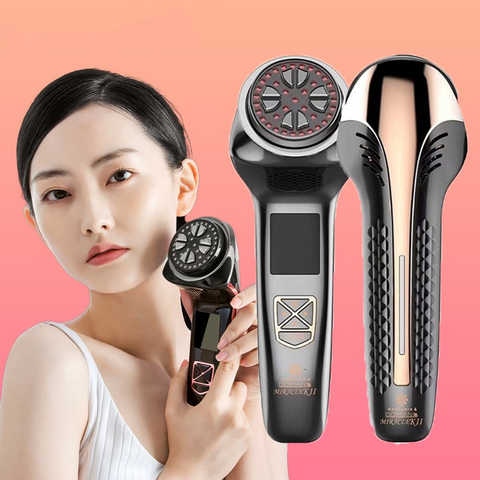 Create your perfect self, achieve the supreme beauty, and let you have the inner and outer beauty calmly.


With just one, you can easily achieve the cutting-edge care you want.

EP Jet System, EMS ION Ion Derived Deep Peeling System

LED (7 colors - photo treatment)

VR Immersive Vibration System

Temperature Sensation RF (Radio Wave), Cool Compression

Massage Gel: 3.5 oz (100 g), Treatment Serum: 1.6 fl oz (45 ml) set
Brand: Koyangsha Co., LTD
Model number: Miracle K II
Beauty instrument function: import warm vibration massage cold compress RF micro current ion export
Color classification: Noble black gold rich pink black
Vibrate or not: Yes
Manufacturer: Koyangsha Co., LTD
Power supply mode: plug charging
Gear: above 5
Application scenario: Home
Function: Pull and tighten intelligence Type: Other intelligence


Before use, please follow these instructions:

🚫 Conduct a skin adaptability test before using the instrument for the first time to ensure safety and prevent skin abnormalities.
🚫 Do not use this product under the following conditions:
Patients with heart disease, diabetes, or high blood pressure.
People with facial nerve disorders .Persons who have undergone facial surgeries involving implants.
Individuals with skin diseases, atopic dermatitis, or allergies.
Growing children and individuals who cannot express themselves.
Pregnant individuals or those who may be pregnant.
Individuals who have undergone eye surgeries (please consult a doctor if you have had LASIK surgery).