YAMAN Bloom EYE SEYE 1 RF Beauty device
SKU: Bloom EYE
YAMAN Bloom EYE SEYE 1 RF Beauty device Ship from Japan or Hong Kong.
 Bloom EYE
A RF device dedicated for the eye area to treat signs of aging such as dryness and dark circles. The smallest and most lightweight* device amongst our RF device series.YA-MAN's has developed a unique technology to apply beauty salon RF technology at your home. The treatment focuses on dryness, dark circles and other aging signs on the eye area. Our most compact model in Bloom series is equipped with multiple sensors to provide more safe and efficient treatment for the delicate eye area.
* In YA-MAN TOKYO JAPAN RF beauty device series
Features

The unique program focusing on the eye area
YA-MAN's unique program combined 1 MHz RF and weak electrical currents for the eye area treatment. It warms up the skin around the eyes deeper*, gently stimulating the muscles to treat aging signs intensively.
* Up to the stratum corneum
Product design
Our smallest and the lightest* Bloom model has been carefully designed for an easy application on the delicate eye area.
A round, dome-shaped head moves smoothly around the eyes. Its electrode components are made from medical grade stainless steel.
* In the YA-MAN TOKYO JAPAN RF beauty device series
Accurate sensing performance
Bloom EYE is equipped with multiple sensing features designed for treating the delicate eye area.
Output is carefully controlled to ensure safe and efficient performance, based on an understanding of customers' operation of the device and the cosmetic ingredients they would use together.
How to Use
Perform 5 sets of steps 1 and 2 within the given timeframe, referring to the image below.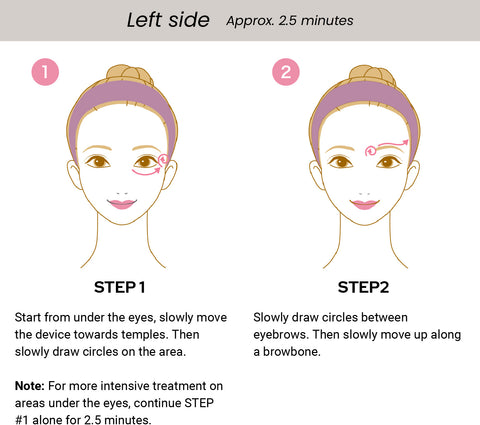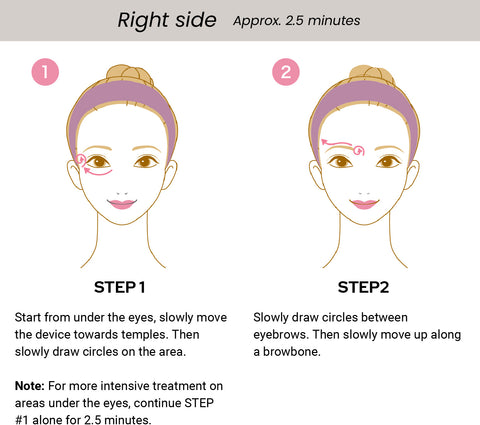 Do not use the device consecutively,as this may lead to skin problems.
SPEC
Product Code:  Blue: SEYE 1
Product Name:  Bloom EYE
Charging Time:  approx. 3 hours
Operating Time:  approx. 40 minutes
Recommended Usage:  5 times a week (5 minutes a day)
Size:  approx. W36 × D41 × H148 mm
Weight:  approx. 103 g
Accessories:  AC adapter, USB charging cable, Flawless Serum Moisture (20g), Flawless Serum Smooth (20 g)
Before use, please follow these instructions:

🚫 Conduct a skin adaptability test before using the instrument for the first time to ensure safety and prevent skin abnormalities.
🚫 Do not use this product under the following conditions:
Patients with heart disease, diabetes, or high blood pressure.
People with facial nerve disorders .Persons who have undergone facial surgeries involving implants.
Individuals with skin diseases, atopic dermatitis, or allergies.
Growing children and individuals who cannot express themselves.
Pregnant individuals or those who may be pregnant.
Individuals who have undergone eye surgeries (please consult a doctor if you have had LASIK surgery).